The Badin Bible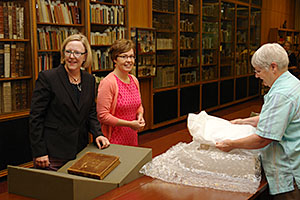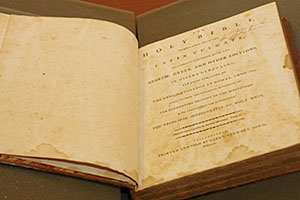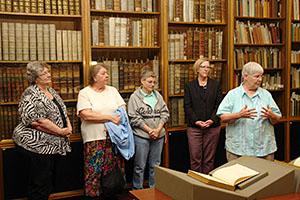 The Badin Bible is a landmark addition to the collection of Catholic Americana in the Hesburgh Libraries' Department of Rare Books and Special Collections. The Bible's provenance embraces three meaningful firsts in the history of the United States: the printing of the first Catholic Bible in the U.S., by Matthew Carey, in 1790; the appointment of the first Bishop in the United States, John Carroll, in 1790; and the ordination of the first priest in the United States, Stephen Badin, in 1793. The later work of Stephen Badin, as a missionary to the Middle West, connects this Bible to the University of Notre Dame.
The Bible is an important example of early Catholic printing and publishing in the United States, and as an artifact is central to early American Catholic history. It is a copy of the first, 1790 edition of the first Catholic Bible (i.e., the Douay-Rheims version) printed in this country, by Matthew Carey of Philadelphia. Carey, an Irish immigrant who began printing and publishing in Philadelphia in 1784, was the first Catholic prominent in the trade.
The Bible was a gift from Bishop John Carroll to Father Stephen Badin, probably given following the latter's ordination by Carroll in 1793. It bears an undated dedication from Carroll to the "R[ev]. Mr. Badin". Badin was a missionary in Kentucky, Indiana, and Illinois, and among other things founded a church and school ministering to the Potawatomi Indians, located on what is now the campus of the University of Notre Dame. In 1831 he built the first log chapel (on the site where the replica stands today). Badin also purchased the land (542 acres) that was given by Bishop Célestine de la Hailandière to Father Edward Sorin to found the University in 1842.
Prior to its arrival at Notre Dame in 2014, the Bible was in the possession of the Sisters of Loretto of Nerinx, Kentucky. Father Stephen Badin was a great friend to the Sisters. The house was founded in 1812 as the congregation of the Friends of Mary at the Foot of the Cross. The first sisters dedicated their lives to God as religious women and educated poor children of the area. The Loretto motherhouse property has been a working farm from the time Stephen Badin purchased the land in 1796. It became home to the Sisters of Loretto in 1824.

Upcoming Events
The Badin Bible is on display in Rare Books and Special Collections during the fall of 2014.

Media coverage