The Golden Cockerel Press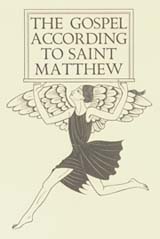 The Golden Cockerel was among the most prominent of the private presses in England during the boom in fine printing in the inter-war period. After an uneven beginning during which it was much more successfully artistically than commercially, the press was purchased by Robert Gibbings afounder of the Society of Wood Engravers who wished to make Golden Cockerel a showpiece for the revival of wood engraving as an art form in the 1920s and 1930s. The press published an offbeat selection of literary classics, which were the mainstay of most fine printing during this period, but supplemented this with contemporary fiction, poetry, and essays. The book designers frequently embraced a modern style, in contrast to the medieval and Renaissance tastes of the Kelmscott Press and its followers.
Some of the finest books from the Golden Cockerel Press are those designed and illustrated by Eric Gill (1882-1940), whose close association with the press began in 1926. As an integral part of its collection of Gill, the Department of Special Collections owns 207 of the 213 works of the press produced between 1920 and 1962, including all of the books connected to Gill. This collection was donated to Special Collections by John Bennet Shaw (ND '37), who purchased it from Evan Gill, Eric's brother.