Fine Presses and Artists' Books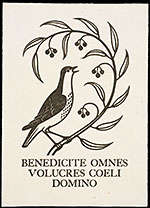 Special Collections holds an extensive collection of books issued from fine presses. At the heart of this collection is the Kelmscott Press. Founded in 1891 by the English designer, typographer, and leader in the Arts and Crafts movement, William Morris, the press represented the revitalization of fine printing during the late nineteenth century. Under Morris' guidance, the press printed what has become regarded as the finest example of fine printing, setting new standards for book design, The Works of Geoffrey Chaucer now newly imprinted (1896), more commonly referred to as the Kelmscott Chaucer. In addition to holding one of the four hundred twenty-five Kelmscott Chaucer copies printed on paper, Special Collections also has 11 other books issued from this press.
Also represented in Special Collections are books printed by the other English fine presses Stanbrook Abbey Press, St. Dominic's Press, and Golden Cockerell Press, including 207 of the 213 works by Eric Gill that the Golden Cockerell printed between 1920 and 1962. Complementing the extensive collection of Gill books are over 2,000 manuscript sketches and printing proofs, greeting cards, calendars, wood blocks, and photographs of Gill and his artwork. Special Collections also has near-complete collections of imprints associated with the Golden Cockerell and St. Dominic's presses. The fine press collection includes examples from the Cuala Press in Ireland and some of the finest and most influential American private presses including Roycroft Press, Overbrook Press, and Perishable Press.
Artists' Books
Artists books form a small but growing collection. Most prominent are books produced under the name Ediciones Vigía, a publishing house in Mantanzas, Cuba. Special Collections holds over 200 books produced by Vigía artists. There are also numerous pieces produced by American book artists including Julie Chen, Johanna Drucker, Karen Hanmer, Susan King, Edward Ruscha, and others as well as the Indiana University School of Fine Arts artists' books collection.