The Kelmscott Press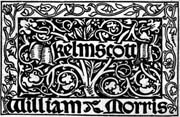 The Kelmscott Press, founded in 1891 by the poet, designer, architect, and political activist William Morris, is generally credited with reviving the art of fine printing. In its seven years of operation, the Kelmscott Press set a standard of excellence in every aspect of the design of books, including typography, presswork, paper, ink, and ornamentation. Kelmscott Press works sought to emulate the look and feel of the books of the Renaissance, which Morris considered the high point of the printed book.
Morris reprinted many medieval and Renaissance tales along with his own works and those of his friend Dante Gabriel Rossetti. The fifty-two works of the press reflected very conservative tastes and were produced in small print runs. The Department of Special Collections owns nine examples of Morris' handiwork:
William Morris, The defence of Guenevere, and other poems (1892)

William of Tyre, The history of Godefroy of Boloyne and of the conquest of Iherusalem (1893)

William Shakespeare, The poems of William Shakespeare (1893)

William Morris, Gothic architecture: a lecture for the Arts and Crafts Exhibition Society (1893)

Wilhelm Meinhold, Sidonia the sorceress (1893)

William Morris, The earthly paradise (1896)

Geoffrey Chaucer, The works of Geoffrey Chaucer, now newly imprinted (1896)

William Morris, The water of the Wondrous Isles (1897)

William Morris, A note by William Morris on his aims in founding the Kelmscott Press (1898)
With William Morris' death in 1896, the press ceased new projects, finishing only what was already in production. It would continue to have great influence over fine printers and book designers for the following century.