Abbey Theatre Programmes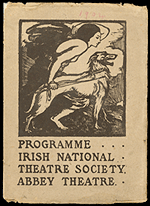 The Abbey Theatre Programmes Collection includes 205 programs for performances of plays and ballets by the Abbey Theatre Co. and the Abbey Theatre School of Ballet, respectively, at the Abbey Theatre, Dublin, during the period from December 1904 to September 1971 (with the exception of performances held between September 1952 through September 1964, which were held at The Queen's Theatre).
The Notre Dame collection of programs can be explored in its online finding aid. For more information about the Abbey Theatre and its history, visit the official Web site of the National Theatre Society of Ireland.
For a bibliography of plays performed at the Abbey Theatre, see Frances-Jane French, The Abbey Theatre Series of Plays: A Bibliography (Chester Springs, PA: Dufour Editions, 1969).
Playwrights represented in this collection include:
Brendan Behan
William Boyle
E. F. Carey
Frank Carney
Paul V. Carroll
W.F. Casey
Anton Chekhov
Padraic Colum
Norreys Connell
Elizabeth Connor
Bryan Cooper
Louis D'Alton
Seamus De Bhilmot
Teresa Deevy
Bernard Duffy
Lord Dunsany
St. John Ervine
Olga Fielden
Charles I. Foley
Andrew Ganly
Lady Gregory
W. D. Hepenstall
Hugh Hunt and Frank O'Connor
Richard Johnson
Denis Johnston
John B. Keane
Nora Macadam
Walter Macken
Francis MacManus
Brinsley Macnamara
G. Martinez Sierra
Rutherford Mayne
Edward McNulty
Molière
M. J. Molloy
J. K. Montgomery
T. C. Murray
Sean O'Casey
Frank O'Connor
Cormac O'Daly
Sean O'Faolain
Seamus O'Kelly
Eugene O'Neill
James Plunkett
Reinhard Raffalt
R. J. Ray
Lennox Robinson
S. L. Robinson
William Shakespeare
George Bernard Shaw
Richard Brinsley Sheridan
George Shiels
J. M. Synge
Ernst Toller and Denis Johnston
Joseph Tomelty
W. B. Yeats