Irish Studies Collections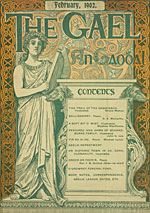 Notre Dame Special Collections holds an extensive Irish Studies collection with concentrations in literature, Irish language, history, and fine arts. This collection features books, manuscripts, maps, pamphlets, and ephemera dating from the sixteenth century to present.
The core of the literature collections are the Irish Fiction Collection and the Jonathan Swift Collection. Represented in the Irish Fiction Collection are all genres of fiction from all periods. The Swift Collection includes rare early editions of Swift's works and a considerable collection of later editions. There is an excellent print collection on W.B. Yeats, and the Irish Revival is well represented in both English and Irish language collections. Also in the literature collections are two extensive collections of papers, the first of the contemporary author Patrick McCabe and the other of the literary and feminist press Arlen House. Irish fine printing is represented in Special Collections' Cuala Press and the Dolmen Press Collections.
Special Collections holds a growing Irish language collection. This collection includes some of the earliest books printed in Irish, including religious works from the seventeenth century such as Bedel's Old Testament translation, Leabhuir na Seintiomna (1685), books on language and literature such as Charlotte Brooke's Reliques of Irish Poetry (1789) and a considerable collection of Irish language writing from the Revival up to the present.
The Irish history collections focus on political, intellectual, and religious history. Seventeenth- and eighteenth-century intellectual and religious history are documented by extensive collections of George Berkeley and Edmund Burke. The collection also holds pamphlets, newspapers, and ephemera pertaining to the 1798 Rising and the Union and among the twentieth-century pamphlet collections there is a large collection on the Northern Ireland conflict. Building on the University's traditional connection with the Irish Catholic diaspora, Catholic writings of the nineteenth century are well represented. An important collection of historical maps, the Irish Maps and Sea Charts Collection, printed between 1567 and 1794 rounds out these collections.
Music and theatre form the core of the fine arts collections. The Irish Broadside Collection contains over 559 ballads, most printed in Dublin between 1860 and 1876. The Captain Francis O'Neill Collection includes an extensive collection of important books on Irish music in the eighteenth and nineteenth centuries. The Irish Theatre collections include theatre programs from the Abbey, the Druid, the Gate and many other theatres, a Charabanc Theatre Collection, and a considerable number printed plays dating from the eighteenth and nineteenth centuries.
Related Online Resources