The Alfonso Vijil Collection on Rubén Darío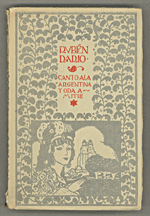 Rubén Darío (1867-1916) is credited with introducing modernism into Hispanic poetry. He is recognized as one of the Hispanic world's greatest poets whose wide-ranging subject matter from history to religious themes offer the reader great variety of poems to chose from. His life-long dedication to his Catholic faith can be found throughout his body of work.
Biography
Born Félix Rubén García Sarmiento in Nicaragua, Darío's talent as a poet was recognized when he was a child leading to public readings and as a teenager he received an offer to publish a collection of his poems, although this would not come to be. Still in his teens and trying to find regular work, he left Nicaragua for Chile in 1886. While he would return to Central America in a few years, he largely remained abroad for the rest of his life allowing him to build a network of poets and followers that increased his influence throughout Latin America, Europe, and North America.
His first work, Epístoas y poemas (1885) would be published in 1888 as Primeras notas. This book brought together several of his poems written throughout his teen years and suffered from the usual pitfalls seen in youthful poetry. While in Chile, he published Abrojos (1887) a collections of poems that included biographical elements including his infatuation with a woman beyond his social station. In Valparaiso, Chile two poems that he submitted to a poetry competition were published in an anthology titled Certamen Varela (1887). One of the poems was Canto épico a las glorias de Chile (Epic song to the glories of Chile), a patriotic poem honoring the Chilean military in their 1879 war with Peru.
Darío's first influential work, Azul (Blue) (1888), included both poems and textual prose. This work established his reputation as a modernist moving beyond the classic stanza form by breaking with the eleven syllable structure and experimenting with twelve, fourteen, and sixteen syllables. He used run-on lines to break with tradition, as well as other elements that had once been found only in the domain of novels. Darío produced two other editions of Azul with the final edition published in 1905 considered to be definitive. He included letters of critical praise from the Chilean novelist, Juan Varela, in these two later editions. Varela's support helped expand Darío's readership.
Darío returned to Central America in 1889 as an established poet and journalist. In El Salvador the president appoints him to manage the newspaper La Unión; although by the next year the president is assassinated causing Darío to flee for Guatemala.
The Buenos Aires daily and one of Latin America's most circulated newspapers, La Nación, had hired him as a correspondent while he was in Chile and would continue to employ him throughout his life. He left for Spain in 1892 as a member of the Nicaraguan commission to celebrate the 400th anniversary of Columbus' discovery of the new world.
In 1893 he found work in Buenos Aires, Argentina and remained there through 1898. There he met many of the leading writers of the day, including another early modernist, Leopoldo Lugones. His next work, Prosas profanes y otros poemas (Profane poems and other poems) (1896) reinforced Darío's explorations into modernist poetry. In the same year he published Los raros where Darío wrote about his literary interests and influences including such writers as Edgar Allan Poe, Paul Verlaine, and José Martí. The French romantics and Parnassians were undeniably major factors in his poetic style.
He made his second trip to Europe in 1898 when La Nación sent him to report on Spain's reaction to its loss of the last of its empire in the Spanish American war. He largely remained in Europe through 1914, living in Paris for much of this time. An expanded second edition of Prosas profanes was published in 1901 in Paris demonstrating that Europe acknowledged the quality of his work and the innovation he brought to poetry. This recognition did not pay off financially as he struggled economically even while working on and off for the Nicaraguan government as a diplomat.
Prosas profanes and the next two books Cantos de vida y esperanza. Los cisnes y otros poemas. (1905) and El canto errante (1907) reinforced Darío's reputation as the Hispanic world's greatest poet and one of the finest poets in the world. The former book was edited by the future Spanish Nobel Poet Lauriat, young Juan Ramón Jiménez.
In 1914 Darío left Europe for the United States following the outbreak of World War I. Canto a la Argentina y otros poemas was published in Madrid the same year. Seriously ill due to liver disease he arrived in Central America in 1915. His health failed him and Dario died on February 6, 1916 in the city of his birth, Leon, Nicaragua. He was interred in the city's cathedral.
The Alfonso Vijil Collection on Rubén Darío
The University of Notre Dame purchased the private collection on Rubén Darío from the book dealer, Alfonso Vijil in the fall of 2008. Considered the most complete private collection of Dariona in the world and rivaling the Nicaraguan National Library's holdings, the collection was painstakingly built over 30 years. Darío's bibliography is similar to many poets in that his poems were regularly published individually in newspapers or magazines before being brought together into a book. In Darío's case, he further edited the poems in his books and published revised editions. The Vijil Collection contains the first editions and following variant editions of Darío's thirty some books. In many cases the original publication of the poem or other work in a serial, such as a newspaper or magazine, has also been included.
The collection contains over 1,700 items. There is a small number of manuscript materials included in the collection, as well as a few photographs. Also included is a newspaper clipping archive that includes materials from 1881 through 1982. The articles are by and about Darío from Latin American newspapers, including several clippings of his La Nación articles. Critical monographic works collected from throughout the world make up the largest part of the collection.
The collection is not yet fully processed. Please direct questions to the Department of Special Collections.