The Inquisition Collection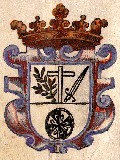 Purchased in 1996 from Libreria José Porrua Turanzas in Madrid, Spain, through an estate gift of Harley L. McDevitt (ND '29), this collection includes several hundred items relating to the Spanish, Portuguese and Roman Inquisitions. It was assembled over many years by the late father of José Porrua Turanzas, who built upon a collection that he had acquired from an earlier Spanish collector, Anastasio Páramo.
The collection may be divided into seven major categories:
Inquisitorial manuals (32 items)
Trials and sentencing documents (22 items)
Autos de fe (50 items)
Censorship documents (145 items)
Familiars and officials documents (57 items)
Policies and proceedings documents (73 items)
Polemics and histories (71 items)
The collection is featured in an online digital project that includes introductory essays to the document categories and digital facsimiles of featured items. The collection can also be browsed via a general search box or faceted values lists through the digital project.
Nearly all of the items have also received cataloging treatment and therefore have records in the ND Libraries online catalog; a keyword search for "mcdevitt inquisition collection" will list those housed in Special Collections; secondary works that were part of the original collection have been fully cataloged and are available in the general circulating collection.
Additional background and information about the acquisition of the McDevitt Collection on the Inquisitions may be found in an article which appeared in the February 1997 issue of Access, the quarterly newsletter of the Hesburgh Libraries of Notre Dame. Biographical information on the benefactor, Harley L. McDevitt, may be found in the University Libraries' Endowment Directory.