The Library of José Durand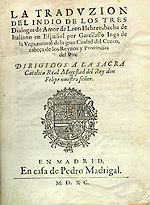 Professor José Durand (1925-1990) of the University of California, Berkeley, collected some 3,000 books, periodicals, pamphlets, and broadsides reflecting literary and philological currents of the Renaissance and Enlightenment in Latin America.
One focus of the collection was the texts that might have influenced the early Peruvian writer, Garcilaso de la Vega, el Inca (1539-1616). Over 500 volumes published in the sixteenth century cover a variety of subjects ranging from architecture and religion to language and literature. They include early editions of classic authors such as Aristotle, Ovid, and Virgil, and Renaissance writers such as Boccaccio, Castiglione, Tasso and others.
Over 600 more volumes were published from the seventeenth to the nineteenth centuries. Chronicles, histories, grammars, and dictionaries reflect Garcilaso's role as colonial historian and linguist. Also included are his own works such as Historia General del Peru (1617). Many twentieth-century works of literature and criticism were signed by eminent Latin American writers.
This collection was acquired in 1995 through the generous donation of the Tom and Dottie Corson Family. The Durand Collection also includes a manuscript component of more than 40 literary, historical, financial and ecclesiastical manuscript items from the Spanish colonies (mainly Peru) in the New World. Please inquire within Special Collections for the preliminary guide to the manuscripts. Most of the books are now included in the online Notre Dame Hesburgh Library catalog.
A digital exhibit has been created based on an exhibition held at the Department of Special Collections during the fall semester of 1996.