Martín Fierro
Front page of Martín Fierro issue n° 4 (May 15, 1924).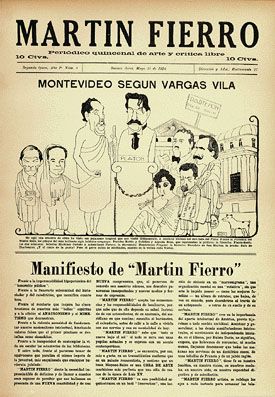 Manifesto de "Martin Fierro" by Oliverio Girondo, as it appeared in Martín Fierro 1: 4 (May 15, 1924):
[Column 1]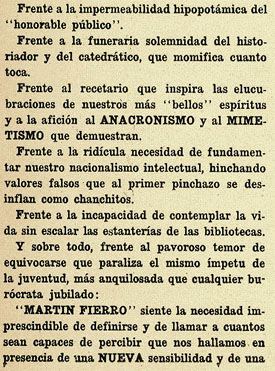 [Column 2]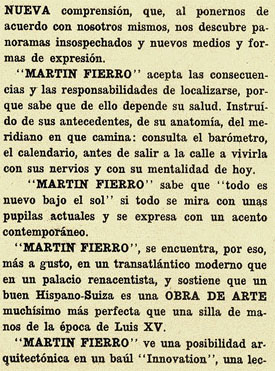 [Column 3]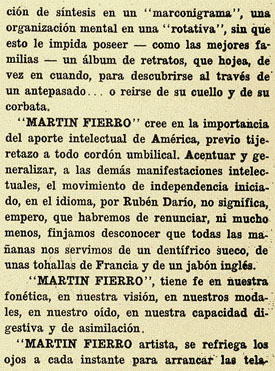 Transcription of last column of Girondo's editorial, inside paper:
rañas que tejen de continuo: el hábito y la costumbre. ¡Entregar a cada nuevo amor una nueva virginidad, y que los excesos de cada día sean distinos a los excesos de ayer y de mañana! ¡Esta es para él la verdadera santidad del creador!... ¡Hay pocos santos!
"MARTIN FIERRO" crítico, sabe que una locomotora no es comparable a una manzana y el hecho de que todo el mundo compare una locomotora a una manzana y algunos opten por la locomotora, otros por la manzana, rectifica para él, la sospecha de que hay muchos más negros de lo que se cree. Negro el que exclama ¡colosal! y cree haberlo dicho todo. Negro el que necesita encandilarse con lo coruscante y no está satisfecho si no lo encandila lo coruscante. Negro el que tiene las manos achatadas como platillos de balanza y lo sopesa todo y todo lo juzga por el peso. ¡Hay tantos negros! ...
"MARTIN FIERRO" sólo aprecia a los negros y a los blancos que son realmente negros o blancos y no pretenden en lo más mínimo cambiar de color.
¿Simpatiza Ud. con "MARTIN FIERRO"?
¡Colabore Ud. en "MARTIN FIERRO"!
¡Suscríbase Ud. a "MARTIN FIERRO"!
---
A la pintura