Gabriela Mistral (1889-1957)
Only parts of Gabriela Mistral's personal correspondence have been published, and there is still much left untouched. Many of the Gabriela Mistral letters in the Latin American Collection at the University of Notre Dame are unpublished.
---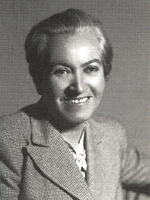 ---
Biographical Information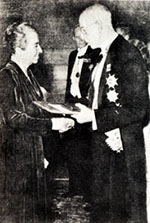 In 1922, long before receiving the Nobel Prize for Literature, an invitation from the Mexican government to collaborate with their educational reform movement drew a young Chilean schoolteacher away from her native country for the first time. Gabriela Mistral would return only occasionally to her beloved Chile, embarking on a life of international travel and diplomacy.
Over the years, however, Mistral remained in close contact with friends and acquaintances who were always geographically distant, filling the space with vast and varied correspondence. Her letters illustrate the different facets of Mistral's persona and the extraordinary quality and variety of her prose writing. Mistral's personal correspondence also demonstrates the poet's rich lexicon and fluid syntax, giving the text an unique oral element similar to her poetry.
---
10 letters to Manuel Magallanes Moure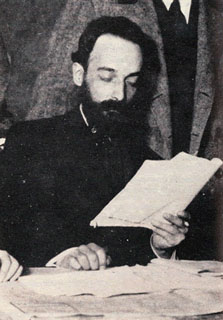 The first set of letters dating from 1914-1923 constitutes part of Mistral's correspondence with Manuel Magallanes Moure (1878-1924), an important Chilean literary figure, poet, short story writer and journalist. In 1914, Magallanes Moure participated on the panel of judges that awarded Gabriela Mistral the highest distinction in "Juegos Florales," the public event that initiated her literary career and for which she traded in her birth name, Lucila Godoy, taking the literary personage of Gabriela Mistral.
The ten letters directed to Magallanes Moure are all signed Lucila Godoy or simply "L" despite the author's public use of the name Gabriela Mistral, a detail that personalizes the correspondence. Four of the letters are handwritten while the remaining six are typed. In these letters, Mistral expresses herself in a very direct and sincere manner which makes the experience of reading these epistles similar to reading through the author's diary. These letters have been edited by María Ester Martínez Sanz and Luis Vargas Saavedra in a volume entitled Manuel, en los labios por mucho tiempo published in 2005 by Ediciones Universidad Católica de Chile.
---
83 letters to Eduardo Barrios
Eduardo Barrios (1884-1963), an important Chilean writer and administrator, was a close friend and advisor to Mistral who often referred to him as hermano or brother. As a tribute to their friendship, Mistral dedicated her first book of poetry, Desolación, to Barrios. In 1953, after a long and successful literary career, Barrios was appointed Director of the National Library and Minister of Education of Chile.
The collection is comprised of 83 letters, both handwritten and typed, of varying length and content and spanning a period of over thirty years. Many of the letters were sent to Barrios during Mistral's extended stays in Mexico, the United States and Europe, documenting her life of travel and diplomacy. Much of the correspondence included in this collection is unpublished, although parts of it have appeared previously in Saavedra's Epistolario de Gabriela Mistral y Eduardo Barrios. In these instances, the sections published in Saavedra's work are only excerpts of the letters included in their entirety here.
Among the letters we also find postcards sent from Spain, Italy and the United States, a sampling of the many different foreign countries that Mistral made her home while a diplomatic administrator for the Chilean government. The correspondence is informal and personal, providing a unique perspective on Gabriela Mistral as she shares her thoughts, feelings and plans with her hermano Barrios over the course of thirty years.