Silvina Ocampo (1903-1993)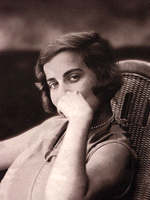 "When you write everything is possible, even the very opposite of what you are. I write so that other people can discover what they should love, and sometimes so they discover what I love. I write in order not to forget what is most important in the world: friendship and love, wisdom and art. A way of living without dying, a way of death without dying. On paper, something of us remains, our soul holds onto something in our lives: something more important than the human voice, which changes with health, luck, muteness and, finally, with age."
Leopoldina's Dream. Daniel Balderston, tr.
Ontario: Penguin Books, 1988.
The Silvina Ocampo Collection represents a comprehensive collection of first editions of Ocampo's short story publications, poetry collections and collaborative works. While diverse in form and genre, Silvina Ocampo's work is recognized for its sophisticated style infused with fantastic elements that seek to subvert the reader's concept of reality. The Silvina Ocampo materials in this collection were made possibly through the generosity of Robert (ND '63) and Beverly O'Grady (SMC '63).
---
---
Biographical Information
Born in Buenos Aires in 1903 to an elite Argentine family, Silvina Ocampo grew up in an environment rich with opportunities to learn about European and Argentine high culture. Already in an advantageous position by virtue of her family's social position, Ocampo met fellow Buenos Aires author and future husband Adolfo Bioy Casares in 1934, further establishing herself as a serious writer among Argentine literary circles. Following her marriage to Bioy Casares in 1940, Ocampo collaborated with her husband and their close friend, Jorge Luis Borges, on two anthologies while at the same time publishing narratives and poetry in her own right. A talented short story writer and poet, Ocampo was awarded the National Prize for Poetry in 1962 among several other national literary awards earned throughout her literary career. Ocampo died in her native Buenos Aires in 1993.
---
Short Stories
Ocampo is best known by the reading public for her short stories which use imaginative subjective prose to catapult ordinary mundane characters and events into an imaginative world of calculated cruelty and fantastic reality. The Ocampo Collection has many of the author's short story publications, among them Ocampo's first publication, Viaje olvidado, published in a limited first edition by SUR in 1937 (cover at right).
Eleven years separated the publication of Ocampo's first book of short stories from her next one, Autobiografía de Irene, published in 1948 by SUR. Those eleven years, however, did not constitute a break in Ocampo's literary career as this time was dedicated to reading, writing, and publishing poetry as well as the production of two important anthologies in collaboration with Bioy Casares and Jorge Luis Borges.
A later (1982) edition of Autobiografía de Irene which contains a prologue by Borges and illustrations by his sister, Norah Borges, is also included in the collection. Several editions of Ocampo's short story publications have prologues written by Borges which clearly illustrate the personal and professional respect that he held for Ocampo.
The other first edition short story publications which are part of the Ocampo Collection span a period of over fifty years and are a testament to Ocampo's long literary career and steady publication of works throughout her life. These include La furia y otros cuentos (1959), Las invitadas (1961), Los días de la noche (1970), La naranja maravillosa (1977), Y así sucesivamente (1987), and Cornelia frente al espejo (1988).
---
Poetry
Ocampo published as many collections of poetry as she did collections of short stories, and her literary acclaim was acknowledged throughout her lifetime by national poetry awards. The Ocampo Collection has first edition copies of Ocampo's first and arguably most important works of poetry, Enumeración de la patria (1942) and Espacios métricos (1945), which is dedicated to her husband, Bioy Casares. It also contains the 1948 fine print edition of Sonetos del jardín illustrated by Hector Basaldua.
Most of Ocampo's first edition poetry collections are signed and inscribed by the author. These include Poemas de amor desesperado (1949), Los nombres (1953), and Amarillo celeste (1972). A collection of poems on saints, Breve santoral, was illustrated by Norah Borges and includes a prologue by Jorge Luis Borges.
---
Collaborations
The Ocampo Collection contains several collaborative works, among them anthologies, a detective novel, and a dramatic play written in verse. These include the first editions of Antología de la literatura fantástica (with J. L. Borges and A. Bioy Casares) and Antología poética argentina (with J. L. Borges and A. Bioy Casares), Los que aman, odian (1946), and Los traidores (1956, with J. R. Wilcock). One of Ocampo's later collaborations was Arboles de Buenos Aires (1979/80), a magnificent collection of poems dedicated to the trees of Buenos Aires with accompanying full-color photographs by Aldo Sessa.
---
Description of Archival Collection
(MSH/SCL 1302-1 to 1302-7, 1304-1, and 1305-1 to 1305-2)
The Ocampo materials currently include five letters of correspondence, one manuscript poem, and a personal diary. Sent by the author to various friends, the majority of the letters were written in the early 1980s, and discuss such varied topics as upcoming weddings, illnesses, and her growing sense of solitude. The manuscript poem is a typewritten first draft, and shows Ocampo's personal corrections with notes on her preferences for diction and syntax. Titled "Gotas Saladas," it is believed to be unpublished.
Finally, the handwritten, undated Ocampo diary can be loosely divided into three sections: musings, stories, and poetry. The first section consists of short musings on aging that are somewhat proverbial in tone. The second section tells the story of two intimate, female friends as they travel to Paris in search of adventure. The last section is nine pages long, and is filled with mournful love poetry.
---
Bibliography
Aira, César. "Silvina Ocampo." Diccionario de autores latinoamericanos. Buenos Aires: Emecé, 2001. p. 398. (Hesburgh Library, Reference: PQ 7081.3 .A35 2001)
Gertel, Zunilda. "Silvina Ocampo." Spanish American Authors: The Twentieth Century. Ed. Angel Flores. New York: Wilson, 1992. p. 598-600. (Hesburgh Library, Reference: PQ 7081.3 .F57 1992)
Ocampo, Silvina. Poesía completa. Buenos Aires: Emecé, 2002. (Hesburgh Library, General Collection: PQ 7797 .O293 A17 2002)
Ocampo, Silvina. Poesía inédita y dispersa. Buenos Aires: Emecé, 2001. (Hesburgh Library, General Collection: PQ 7797 .O293 A16 2001)