Incunabula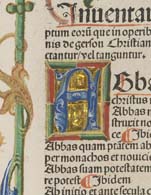 The University of Notre Dame owns nearly 100 books printed in Europe prior to 1501. Many of these volumes from the early years of printing, known as incunabula or incunables, are described in Incunabula typographica: Catalog of fifteenth-century books held by the Memorial Library of the University of Notre Dame (University of Notre Dame Press, 1979).
The collection consists largely of philosophical and theological works, primarily patristic and scholastic authors. There are also several illustrated German and Latin bibles, including a leaf of Gutenberg's 1455 bible, the first Latin translation of the Ship of Fools, the first edition of the Nuremberg Chronicle, and the first printed edition of Thomas Aquinas, believed to have been completed by Johann Gutenberg ca. 1460.
There are also several editions of the Italian poets Dante, Petrarch, and Boccaccio. The library holds a nearly complete collection of the earliest imprints of Dante's Divine Comedy including the editions of 1477, 1481, 1484, 1487, 1491, 1493, and 1497.