Modern European Cultures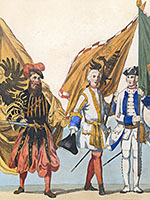 Holdings that include rare books, manuscripts, maps, and printed ephemera document modern European history and cultures from roughly 1500 to present with particular strengths in Britain, Ireland, and Italy. These areas of strength also include the author collections of Dante Alighieri, George Berkeley, Edmund Burke, G. K. Chesterton, Eric Gill, and Primo Levi. Special Collections has holdings of manuscripts, coins, postage stamps, printed ephemera, and books, including extensive holdings of books related to René Descartes, from across Europe, and a growing collection of manuscript and print materials focused on human rights and non-conformist culture in Soviet Russia and the Russian diaspora in the United States and Europe.
In addition to these holdings, Special Collections has an extensive collection documenting print and book culture in Europe and the United States. Over 110 incunables, including Hartmann Schedel's Liber cronicarum (1493), commonly known in English as the Nuremberg Chronicle, provide examples of the first fifty years of printing in Europe. Other books in Hebrew, Greek, Latin, French, English, German, Dutch, and Italian printed by some of the finest early printers—Gutenberg, Anton Koberger, Aldus Manutius—represent the mid-fifteenth and sixteenth centuries. Rounding out the collection are books printed by private presses and fine presses in Europe and the United States. Examples of presses represented are the Kelmscott Press, Roycroft Press, Golden Cockerell Press, and Cuala Press among numerous others.