The René Descartes Collection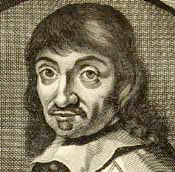 A collection of nearly 1,000 items by or about Descartes was purchased from Rev. Elias Denisoff in 1966. Placing the modern books in circulation left about 100 early titles by Descartes and 30 titles about him in the Rare Book collection. These include numerous first editions such as Discours de la Méthode (1637).
Dates range from 1644 to 1971, the bulk being seventeenth- and eighteenth-century works. Languages are primarily French and Latin. Places of publication include Paris, Amsterdam and Leiden, Frankfurt, and London among others. Publishers include some of the great names such as Elsevier and Blaeu. The books about Descartes include those by contemporaries such as Spinoza and Malebranche, among others.
A longer description of the collection is available online, as is a checklist of early editions by and relating to René Descartes.