Olmütz Monastic Libraries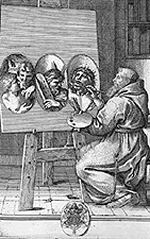 This collection consists of some 460 volumes, primarily eighteenth-century imprints relating to canon law, ethics, heresy, church history, and other ecclesiastical subjects. The volumes once belonged to monasteries in the area of Olmütz in the present day Czech Republic.
Selected titles include:
Most items have been cataloged and are accessible via the main library catalog. The collection was a gift from Indiana University.