Marshalling: Example 3
The coat-of-arms below is that of "Robert Harley of Brampton Castle" (most likely Sir Robert Harley, 1st Earl of Oxford, 1661-1724) and is taken from his bookplate.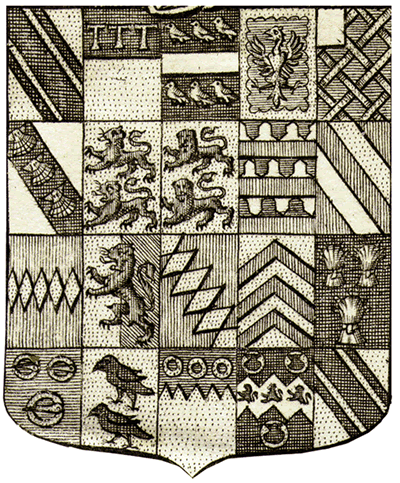 A coat-of arms that marshalls more than four armorials is read from upper left to lower right by row. This armorial is thus blazoned as follows (not all of the families represented have been identified at this time):
Marshalling of twenty:
or a bend cotised sable; [Harley]
or on a chief sable three tau crosses or; [Prescop]
sable a fess between six martlets argent;
azure and eagle displayed and a bordure engrailed or; [Pevelesdon]
azure fretty or, a canton argent; [Willeley]
argent on a bend sable three escallops of the first;
or two lions passant gules; [Brampton]
or two lions passant guardant gules;
barry of six vair and gules;
gules two bendlets, the upper or and the lower argent; [Fitz-Water]
gules five lozenges conjoined in fess or; [Newmarch]
per pale or and vert a lion rampant gules;
gules a bend lozengy or;
or three chevronelles gules;
sable three garbs argent;
azure three round buckles or; [Brampton]
or two ravens in pale sable; [Corbet]
or on a chief indented azure three annulets or; [Hereford]
sable on a fess dencetté argent between three bezants, each charged with an escallop sable, as many demi-lions sable. [Warnecombe]
as first.