Physical Exhibits in Special Collections
Rare Books and Special Collections regularly presents exhibits of materials from its holdings in our Exhibit Room (102 Hesburgh Library, at the west end of the 1st floor concourse) and on our Web site.
All exhibits are free and open to the public during our regular hours.
---
Currently on Display
In a Civilized Nation: Newspapers, Magazines and the Print Revolution in Nineteenth-Century Peru
February 9 - August 10, 2018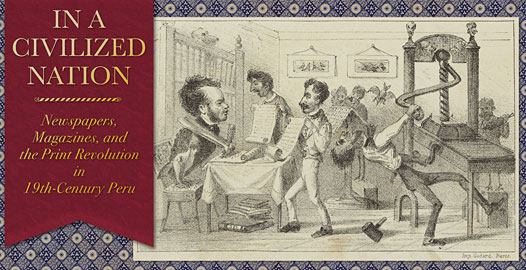 This exhibit explores the history of newspapers, magazines, and the periodical print revolution in the colony and nation of Peru. It draws on strengths of Rare Books and Special Collections' José E. Durand Peruvian History collection. A Peruvian scholar and bibliophile (1925-1990), Durand sought out and amassed an unparalleled collection of early Peruvian imprints and periodicals, including an impressive array of nineteenth-century newspapers, circulars, and popular song and verse imprints. Many of these materials come from presses in Lima, the Peruvian capital, while others are from provincial towns such as Cuzco, Arequipa, and Ayacucho. Together these items offer diverse perspectives on Peruvian political events and cultural and religious practices and preferences from the colonial era, through the country's birth in 1825, and beyond the turn of the twentieth century.
This exhibit is curated by Erika Hosselkus, Curator, Latin American Collections, RBSC.

Related Events
Public tours of the exhibit are offered Tuesdays at noon, February through April. Tours are also available for classes or other groups, including K-12 audiences, by request.
If you are planning to bring a group to Special Collections or would like to schedule a special tour, please email rarebook @ nd.edu or call 574-631-0290.
---
Spotlight Exhibit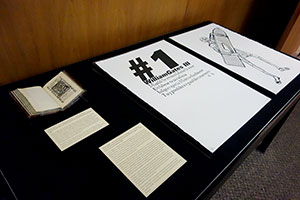 The Forbes Simulachres: The "Dance of Death" Reimagined
July - August 2018
Artist Didier Mutel adapts Hans Holbein's "Dance of Death" skeletons to apply to individuals from Forbes Magazine's annual list of the world's wealthiest people. Showcased in this display are plates from Mutel's oversized portfolio, juxtaposed with Holbein's woodcuts from 1538.
This exhibit is curated by Marsha Stevenson, Visual Arts Librarian.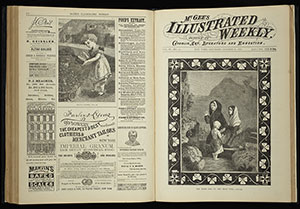 Chaste, Choice and Chatty: Irish‑American Periodicals of the Nineteenth Century
April - August 2018
This spotlight exhibit displays a small selection from the Irish-American periodical collection at Notre Dame's Special Collections. These periodicals circulated in the late nineteenth century, and provide an intriguing view of the ways in which a distinct Irish-American culture developed, and of the identification of the Irish with the Catholic Church. From illustrated weekly magazines to almanacs, the Hesburgh Library's collection covers an array of these publications. The description of McGee's Illustrated Weekly as 'chaste, choice and chatty' is an indication of the style of literature aimed at by some of the editors.
The exhibit is curated by Aedín Clements, Irish Studies Librarian.
For information about previous spotlight exhibits, please refer to the History of Spotlight Exhibits page.
---
Upcoming Exhibits
Suggest an Exhibit
Many of the exhibits presented by the Department of Special Collections are produced in collaboration with members of the Notre Dame teaching and research faculty and are scheduled to coincide with significant academic conferences at the University. If you have a suggestion for a future exhibit and/or would like to assist in producing one, please contact Special Collections at 631-0290 or by e-mail.