Physical Exhibits in Special Collections
For fully vaccinated Notre Dame faculty, staff, students and visitors, masking is now optional indoors on campus. Those students, faculty, staff and visitors who are not fully vaccinated must wear masks inside campus buildings, including in Rare Books & Special Collections spaces. Anyone who would prefer to wear a mask in any setting is welcome to do so.

The Special Collections reading room is currently open by appointment only, but the exhibit room and reference collection remain open to all during our regular hours (Monday - Friday, 9:30am - 4:30pm).
---
Rare Books and Special Collections regularly presents exhibits of materials from its holdings in our Exhibit Room (102 Hesburgh Library, at the west end of the 1st floor concourse) and on our Web site.
All exhibits are free and open to the public during our regular hours.
Please note that the corridor outside RBSC is temporarily narrowed to a pedestrian tunnel due to ongoing library renovations, but we remain open during regular hours.
---
Currently on Display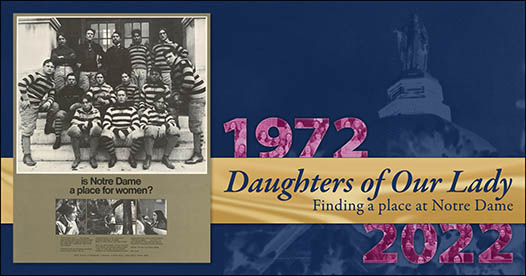 Daughters of Our Lady: Finding a Place at Notre Dame
September - December, 2022
In 2022, the University of Notre Dame celebrates fifty years of being a coeducational institution. Daughters of Our Lady: Finding a Place at Notre Dame joins the year-long celebrations occurring throughout campus. This exhibit presents a selection of correspondence, articles, documents, and other materials from the Notre Dame Archives that record the journey toward coeducation.
The transition to fully include women in all aspects of student life was a long, winding, and sometimes bumpy road. Since the 1910s, women have been studying at and earning degrees from Notre Dame. For the most part, their experiences were exclusive to the Summer School Program, which was established in 1918. However, by the 1960s, it was clear that Notre Dame, like its peers, had to pursue coeducation to remain a relevant, top-tier university.
Notre Dame became coeducational in the fall of 1972, but it would take years for women to be fully integrated into undergraduate life. Women struggled for representation in the classrooms, in student organizations, and on the athletic fields. This exhibit takes a look back at the pioneering women who have helped shape Notre Dame for over one hundred years.
This exhibit was curated by Elizabeth Hogan (Senior Archivist for Photographs and Graphic Materials).

Related Events
Exhibit curator, Elizabeth Hogan, will be available to walk you through the exhibit and answer questions. No registration necessary.

This and other exhibits within the library are generously supported by the McBrien Special Collections Endowment.
---
Spotlight Exhibits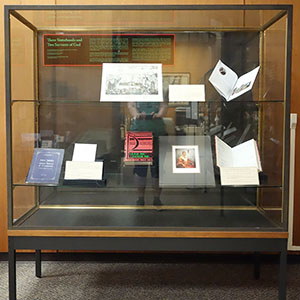 June-October 2022 | Three Sisterhoods and Two Servants of God
Featuring items from University of Notre Dame Archives and Rare Books & Special Collections relating to the Friends of Mary at the Foot of the Cross (later the Sisters of Loretto), the Oblate Sisters of Providence, and the Franciscan Sisters of Perpetual Adoration, this exhibit invites viewers to consider how gender, race, religion, and place shaped and continue to shape the stories of these sisterhoods and two of their more well-known members.
This exhibit is curated by Jean McManus (Catholic Studies Librarian).
For more information about the exhibit, read the related blog post.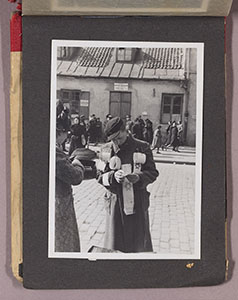 September-October 2022 | A Day in a Life of the Warsaw Ghetto in Photographs
Special Collections recently acquired two World War II era photo albums featuring original photographs from within and outside of the Warsaw Ghetto's walls. The albums are currently on display as the September spotlight exhibit in Special Collections.
This exhibit is curated by Natasha Lyandres (Russian and East European Studies Librarian).
For more information about the exhibit, read the related blog post.
For information about previous spotlight exhibits, please refer to the History of Spotlight Exhibits page.
---
Upcoming Exhibits
An exhibtion on the Art and Craft of the Irish Book
An exhibiton on Enslaved Peoples of the Western Hemisphere, early modern to modern period
An exhibtion in conjunction with the Medieval Academy of America's Annual Meeting, to be hosted at Notre Dame
Suggest an Exhibit
Many of the exhibits presented by the Department of Special Collections are produced in collaboration with members of the Notre Dame teaching and research faculty and are scheduled to coincide with significant academic conferences at the University. If you have a suggestion for a future exhibit and/or would like to assist in producing one, please contact Special Collections at 631-0290 or by e-mail.