Physical Exhibits in Special Collections
For fully vaccinated Notre Dame faculty, staff, students and visitors, masking is now optional indoors on campus. Those students, faculty, staff and visitors who are not fully vaccinated must wear masks inside campus buildings, including in Rare Books & Special Collections spaces. Anyone who would prefer to wear a mask in any setting is welcome to do so.

The Special Collections reading room is currently open by appointment only, but the exhibit room and reference collection remain open to all during our regular hours (Monday - Friday, 9:30am - 4:30pm).
---
Rare Books and Special Collections regularly presents exhibits of materials from its holdings in our Exhibit Room (102 Hesburgh Library, at the west end of the 1st floor concourse) and on our Web site.
All exhibits are free and open to the public during our regular hours.
---
Currently on Display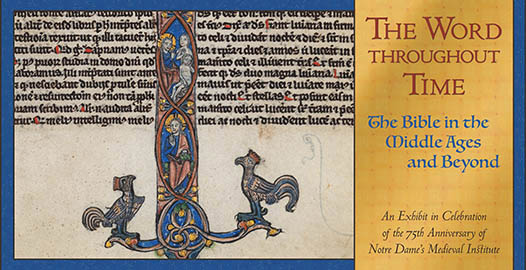 The Word throughout Time: The Bible in the Middle Ages and Beyond
January - June, 2022
This year marks the 75th anniversary of the University of Notre Dame's Medieval Institute. The current exhibit is constituted in celebration of this anniversary and brings some of the University's finest medieval manuscripts and early imprints to the fore, drawn from the Hesburgh Library, Snite Museum of Art, and the McGrath Institute for Church Life.
The Word throughout Time: The Bible in the Middle Ages and Beyond features Bibles and Biblical texts from the 12th through 21st century, including numerous illuminated Bibles from Italy, France, England, and Bohemia, a leaf from the Gutenberg Bible, chant manuscripts, and the Saint John's Bible. The exhibit seeks to show the varying contexts of the medieval Bible as well as its early modern successors: in the schools through interpretation and commentary, in public through the liturgy and preaching, in private through prayer and devotion.
This exhibit is curated by Dr. David T. Gura (Curator of Ancient and Medieval Manuscripts).

This and other exhibits within the library are generously supported by the McBrien Special Collections Endowment.
---
Spotlight Exhibits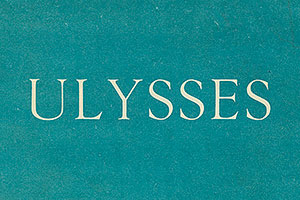 January - May 2022 | 100 Years of James Joyce's Ulysses
This spotlight exhibit celebrates the centenary of the publication of James Joyce's groundbreaking novel, Ulysses. The novel was published by bookseller Sylvia Beach, the American owner of Paris bookshop Shakespeare and Company. The first printed copies arrived in time for Joyce's fortieth birthday, February 2, 1922.
This semester-long exhibit consists of the earliest editions of Joyce's Ulysses held in the Hesburgh Libraries Special Collections: the first edition (1922) published by Beach's Shakespeare and Company, along with the first English edition (1922) published by Harriet Weaver's Egoist Press. Also on display is a later magazine, Two Worlds Monthly, along with an "International Protest" against the plagiarism carried out by that magazine.
This exhibit is curated by Aedín Ní Bhróithe Clements (Irish Studies Librarian).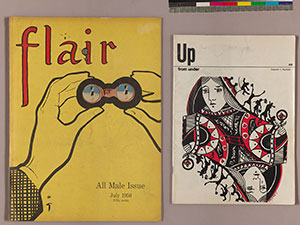 May 2022 | Fifties Flair and Seventies Feminism Presented by Two Magazines
Special Collections recently acquired two American magazines from the mid-twentieth century—Flair (1950) and Up from under (1970-1973). Although at first glance they appear as different as Liz Taylor and Gloria Steinem, the titles have similarities in addition to their clear differences. Both, for example, used the serials medium to command striking visual impact, albeit in different ways for very different ends.
This exhibit is curated by Rachel Bohlmann (American History and American Studies Librarian).
For information about previous spotlight exhibits, please refer to the History of Spotlight Exhibits page.
---
Upcoming Exhibits
An exhibtion to celebrate 50th anniversary of coeducation at Notre Dame
An exhibtion in of Irish Studies materials
Suggest an Exhibit
Many of the exhibits presented by the Department of Special Collections are produced in collaboration with members of the Notre Dame teaching and research faculty and are scheduled to coincide with significant academic conferences at the University. If you have a suggestion for a future exhibit and/or would like to assist in producing one, please contact Special Collections at 631-0290 or by e-mail.