Physical Exhibits in Special Collections
Rare Books and Special Collections regularly presents exhibits of materials from its holdings in our Exhibit Room (102 Hesburgh Library, at the west end of the 1st floor concourse) and on our Web site.
All exhibits are free and open to the public during our regular hours.
---
Currently on Display
Elements of Humanity: Primo Levi and the Evolution of Italian Postwar Culture
August 21 - December 15, 2017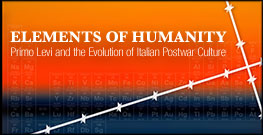 Primo Levi (1919-1987) was the author of fiction, poetry, essays, memoirs and translations and is best known for his first work, Se questo è un uomo, an account of his detention at Auschwitz in 1944/1945. Before he was a writer Primo Levi was a chemist, and throughout his life the two identities intertwined in fascinating and mutually enriching ways, in a constant exploration of possible links between what Levi called "the world of words and the world of things." Levi's writings reflect his deep engagement with various forms of both scientific and humanistic knowledge, as well as with Jewish culture and wisdom. Governing Levi's work as a whole are a profound love of storytelling and an equally profound desire to communicate in friendship. Levi is rightly considered one of the most important authors of the twentieth century.
This exhibit traces the progression and reception of Levi's writings in first editions from the Primo Levi Collection of the Hesburgh Libraries' Department of Rare Books & Special Collections. The Primo Levi Collection, developed in conjunction with Italian Studies at Notre Dame, is one of the most important of its kind outside of Italy. It includes all first editions of Levi's works published within his lifetime as well as first editions of notable translations and adaptations of Levi's writings that document his importance outside of Italy.
Suggestions for further reading (PDF)
This exhibit is curated by Tracy Bergstrom.

Related Events
Public tours of the exhibit are offered Tuesdays at noon and Wednesdays at 3pm. Tours are also available for classes or other groups, including K-12 audiences, by request.
If you are planning to bring a group to Special Collections or would like to schedule a special tour, please email rarebook @ nd.edu or call 574-631-0290.
Tuesday September 5 at 4pm in Rare Books & Special Collections, Hesburgh Library
Please join us for an opening of the exhibit on September 5 at 4pm. The event will feature brief remarks by Tracy Bergstrom (Curator, Italian Imprints and Dante Collection), Vittorio Montemaggi (Lecturer, Religion and the Arts, King's College London), and Valentina Geri (PhD candidate, Italian), followed by a light reception and viewing of the exhibit.
Co-sponsored by Italian Studies at Notre Dame and Hesburgh Libraries.
---
Spotlight Exhibit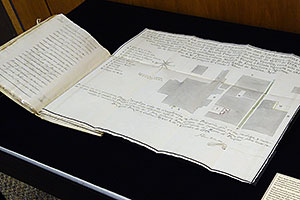 Building A Colonial Mexican Tavern: Archive of the Pulquería El Tepozán
November - December 2017
The spotlight exhibit highlights a manuscript archive for the pulquería El Tepozán, which includes real estate, licensing, and planning documents, and was recently acquired by Special Collections. On display is large-format plan depicting the proposed location and orientation of a Mexican tavern (pulquería). The plan is for one of four such establishments built by nobleman don Pedro Romero de Terreros, the Count of Regla, in Mexico City, beginning in the final years of the 1770s.
This exhibit is curated by Erika Hosselkus, Curator, Latin American Collections.
Baseball and Tin Pan Alley:


Sheet Music from the Joyce Sports Collection
November 2017 - February 2018
In 2015 RBSC acquired a collection of more than 450 examples of baseball-related sheet music, dating from before the Civil War to the late 20th century. On display in this spotlight exhibit is a small sampling of the collection, with items ranging from the early days of baseball to the end of the Tin Pan Alley era.
The examples on display in this spotlight exhibit are selected from Special Collections' Baseball Sheet Music Collection.
The exhibit is curated by George Rugg, Curator, Special Collections.
For information about previous spotlight exhibits, please refer to the History of Spotlight Exhibits page.
---
Upcoming Exhibits
18th Century Peruvian serials
Suggest an Exhibit
Many of the exhibits presented by the Department of Special Collections are produced in collaboration with members of the Notre Dame teaching and research faculty and are scheduled to coincide with significant academic conferences at the University. If you have a suggestion for a future exhibit and/or would like to assist in producing one, please contact Special Collections at 631-0290 or by e-mail.