Physical Exhibits in Special Collections
Rare Books and Special Collections regularly presents exhibits of materials from its holdings in our Exhibit Room (102 Hesburgh Library, at the west end of the 1st floor concourse) and on our Web site.
All exhibits are free and open to the public during our regular hours.
---
Currently on Display
In a Civilized Nation: Newspapers, Magazines and the Print Revolution in Nineteenth-Century Peru
February 9 - August 10, 2018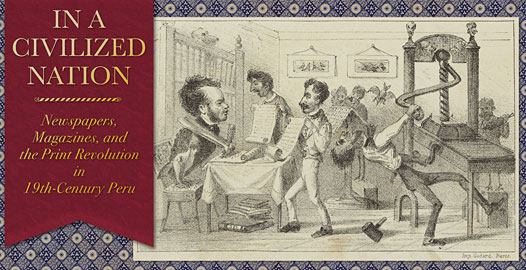 This exhibit explores the history of newspapers, magazines, and the periodical print revolution in the colony and nation of Peru. It draws on strengths of Rare Books and Special Collections' José E. Durand Peruvian History collection. A Peruvian scholar and bibliophile (1925-1990), Durand sought out and amassed an unparalleled collection of early Peruvian imprints and periodicals, including an impressive array of nineteenth-century newspapers, circulars, and popular song and verse imprints. Many of these materials come from presses in Lima, the Peruvian capital, while others are from provincial towns such as Cuzco, Arequipa, and Ayacucho. Together these items offer diverse perspectives on Peruvian political events and cultural and religious practices and preferences from the colonial era, through the country's birth in 1825, and beyond the turn of the twentieth century.
This exhibit is curated by Erika Hosselkus, Curator, Latin American Collections, RBSC.
---
Spotlight Exhibit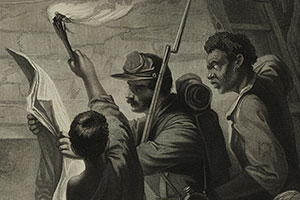 Reading the Emancipation Proclamation
January - February 2018
Abraham Lincoln issued the Emancipation Proclamation on January 1, 1863. This 1864 steel engraving by James W. Watts was adapted from a drawing, Reading the Proclamation of Emancipation in the Slaves' Cabin, by New York City artist Henry Walker Herrick. Very few pictorial depictions of the proclamation were made before Lincoln's assassination in 1865 and this is the only contemporary image that offers an interpretation of how it might have been received by the people it was intended to free.
The print was acquired by Rare Books and Special Collections in 2017.
This exhibit is curated by Rachel Bohlmann, American History Librarian.
Baseball and Tin Pan Alley:


Sheet Music from the Joyce Sports Collection
November 2017 - February 2018
In 2015 RBSC acquired a collection of more than 450 examples of baseball-related sheet music, dating from before the Civil War to the late 20th century. On display in this spotlight exhibit is a small sampling of the collection, with items ranging from the early days of baseball to the end of the Tin Pan Alley era.
The examples on display in this spotlight exhibit are selected from Special Collections' Baseball Sheet Music Collection.
The exhibit is curated by George Rugg, Curator, Special Collections.
For information about previous spotlight exhibits, please refer to the History of Spotlight Exhibits page.
---
Upcoming Exhibits
18th Century Peruvian serials
Suggest an Exhibit
Many of the exhibits presented by the Department of Special Collections are produced in collaboration with members of the Notre Dame teaching and research faculty and are scheduled to coincide with significant academic conferences at the University. If you have a suggestion for a future exhibit and/or would like to assist in producing one, please contact Special Collections at 631-0290 or by e-mail.