1928-29 Chicago Cubs / BAS875-2-6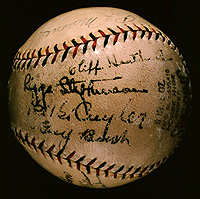 Upper panel
Ball type: Spalding Official National League, double-stitched, John Heydler signature.
Signatures: Eight, in fountain pen. Upper panel: Cliff Heathcote, Riggs Stephenson, Kiki Cuyler, Guy Bush. Right side panel: Pat Malone. Left side panel: Hack Wilson, Norm McMillan, Woody English.
Condition: All signatures fully discernable; those on the upper panel reveal some areas of deterioration. Ball shows moderate natural discoloration.
Notes: Most of the players whose signatures appear on this ball spent a number of seasons with the Cubs. The exception is Norm McMillan, a utility infielder with the club in 1928 and the regular third baseman in 1929. Other signatures include the exceptional starting outfield of Stephenson, Wilson, and Cuyler (all of whom were over .340 in 1929); shortstop Woody English; reserve outfielder Cliff Heathcote; and two fine pitchers, Malone and Bush.
The Cubs of 1929 were the end result of a highly successful rebuilding effort by Hall of Fame manager Joe McCarthy. Winners of 98 games and the National League pennant, the team was extremely potent offensively (scoring 982 runs) and sound defensively, with a very solid corps of starters. It was also a team with an inordinate number of stars who had been written off elsewhere, or had experienced problems with management (Hall-of Famers Cuyler, Wilson, and Rogers Hornsby are three notable examples). In the World Series the Cubs lost to Philadelphia in five games, handcuffed by the fine Athletics pitching.
Provenance: Gift of Emmit Jennings.