1930 Philadelphia Athletics with Babe Ruth, Joe McCarthy, et al / BAS875-2-7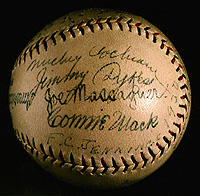 Left side panel
Ball type: Reach Official American League, double-stitched, Ernest S. Barnard signature.
Signatures: Sixteen, in fountain pen. Back panel (sweet spot): Joe McCarthy, Kid Gleason. Upper panel: Joe Boley, Roy Mahaffey, Max Bishop. Right side panel: Bill Shores, Rube Walberg, Mule Haas. Lower panel: Al Simmons, Babe Ruth, George Puccinelli, Jimmie Wilson. Left side panel: Mickey Cochrane, Jimmy Dykes, Joe Massagner, Connie Mack.
Inscription: "F. C. Jennings 1930" on left side panel.
Condition: All signatures fully discernable, with minimal to moderate fading; Ruth's signature shows significant deterioration. Ball shows minimal natural discoloration.
Notes: For fifty years (1901-50) American League baseball in Philadelphia was synonymous with the tall, austere person of Cornelius McGillicuddy, known in the game as Connie Mack. As field manager, treasurer, and braintrust for the A's majority shareholders, the Shibe family, Mack assembled some of the century's best clubs - and many of its worst, when unfavorable financial conditions encouraged a reduced payroll. Few of his teams could rival those of the years around 1930. Amid the general prosperity of the post-World War I era, Mack determined to build a winner, and began paying significant sums for young minor league stars like outfielder Al Simmons, catcher Mickey Cochrane, and pitchers Rube Walberg, George Earnshaw, and Lefty Grove - the latter for a reported $100,600 over ten years. Others, like infielders Jimmy Dykes and Jimmie Foxx, were signed inexpensively as youngsters and developed by Mack himself. As these players matured the A's became competitive, then formidable. From 1929 to 1931 they effectively wrested control of the league from the Yankees, winning easy pennants while totaling more than one hundred victories each season.
The 1930 Athletics finished at 102-52, eight games ahead of Washington and sixteen ahead of the Yankees. In that year's World Series they defeated the St. Louis Cardinals four games to two, to claim their second consecutive world championship. Al Simmons and Jimmie Foxx were among the league's best hitters, but the team's greatest star was Grove. In a year in which all circumstances conspired to favor the hitter - the ball may have been livened to enhance the game's appeal in the face of the Depression - Grove was sensational, winning twenty-eight games with an earned run average more than two runs lower than that of the league. The Athletics went on to win a third consecutive pennant in 1931, but as the Depression deepened and attendance continued to sink, Mack deemed it necessary to begin peddling his stars; by 1935 the club had settled at the bottom of the league.
The presence of the Yankees' Babe Ruth and Chicago Cubs manager Joe McCarthy, as well as two members of the Cardinals, catchers Jimmie Wilson and George Puccinelli, suggests that the ball was signed during the 1930 World Series. Six members of the Athletics' regular lineup are present: second baseman Max Bishop, shortstop Joe Boley, third baseman Dykes, outfielders Simmons and Mule Haas, and catcher Cochrane. Walberg, Bill Shores, and Roy Mahaffey were third, fourth and fifth in innings pitched for the Athletics, after Earnshaw and Grove. Kid Gleason, best known as manager of the 1919 Chicago "Black Sox," was Mack's coach. Joe Massagner was a baseball writer from Havana, in Philadelphia covering the Series. Hall of Famers on this ball include Mack, Simmons, Cochrane, Ruth, and McCarthy.
Provenance: Gift of Emmit Jennings.