1931 Philadelphia Athletics and St. Louis Cardinals, with Babe Ruth / BAS875-2-8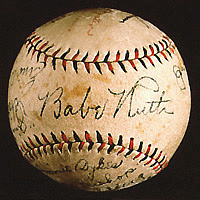 Back panel (sweet spot)
Ball type: Spalding Official National League, double-stitched, John Heydler signature.
Signatures: Twelve, in fountain pen. Back panel (sweet spot): Babe Ruth. Upper panel: Gabby Street. Right side panel: Syl Johnson, Jim Bottomley. Lower panel: Jimmy Moore, Waite Hoyt, Ernie Orsatti. Left side panel: Jimmie Dykes, Max Bishop, Rube Walberg, Dib Williams, Mule Haas.
Condition: All signatures fully discernable, with minimal fading. Brown spotting on side and back panels; discoloration otherwise moderate.
Notes: Signatures include four members of the 1931 Cardinals (Street, Johnson, Bottomley, and Orsatti) and seven members of the Philadelphia A's team they met and defeated in the '31 World Series (Moore, Hoyt, Dykes, Bishop, Walberg, Williams, and Haas), along with Babe Ruth. Since Ruth habitually "covered" the Series for the Christy Walsh sports syndicate, it seems likely that the ball was signed on that occasion. The presence of former Yankee star Waite Hoyt, a member of the A's only from June 30 to season's end, provides the strongest argument for a 1931 date (the same two teams appeared in the Series in 1930).
None of the players appearing on this ball figured especially prominently in the Series, which is best remembered for the superb performance of Pepper Martin, the Cardinal center fielder. Bottomley, Dykes, Bishop, Williams, and Haas played in every game without doing much offensively; Syl Johnson started and lost Game 4, and Hoyt did the same in Game 5. Gabby Street was the Cardinal manager. The result (in seven games) raised eyebrows, for though St. Louis was a highly respected team, the Athletics were winners of two consecutive world championships and had gone 107-45 during the season, a record that would prove to be Connie Mack's best in fifty years of managing the club. Most of the Hall-of-Famers on the two teams are absent from this ball, though Bottomley and Hoyt (along with Ruth) do appear.
Provenance: Gift of Emmit Jennings.