1936 New York Yankees / BAS875-1-4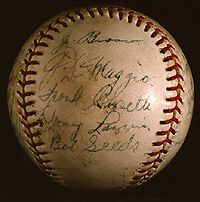 Upper panel
Ball type: Reach Official American League, single-stitched, William Harridge signature (front panel).
Signatures: Nineteen, in fountain pen. Back panel (sweet spot): Lou Gehrig, Joe McCarthy. Upper panel: Johnny Broaca, Joe Dimaggio, Frank Crosetti, Tony Lazzeri, Bob Seeds. Right side panel: Jack Saltzgaver, Monte Pearson, Earle Combs, Jumbo Brown, Red Rolfe. Lower panel: Bill Dickey, Roy Johnson. Left side panel: George Selkirk, Art Jorgens, Pat Malone, Frank Makosky, Kemp Wicker.
Inscriptions: "1936" on right side panel.
Condition: All signatures fully discernable, with moderate, generally even fading. Brown spotting on right side panel and minor dirt smudges throughout; discoloration otherwise moderate.
Notes: In the spring of 1936 the Yankees were picked by most to finish third. They had won only one American League pennant since 1928, and were coming off three successive second place finishes under Joe McCarthy. It was quite contrary to expectations, then, when the club proceeded to make a shambles of the league race, progressively drawing away from the competition after moving into first place on 10 May. The ultimate margin of victory over second-place Detroit was 19 1/2 games. The team's hitting was outstanding - even if its remarkable statistical totals were partly the consequence of the offensive bias of the era. The 1936 Yankees scored 1065 runs, the second highest total by a major league club in this century, and set records for team RBIs and total bases which still stand. Spearheading this exceptional offense were first baseman and league MVP Lou Gehrig (.354, with 49 home runs and 152 RBI), catcher Bill Dickey, and a 21-year-old rookie from San Francisco, Joe DiMaggio (.323, 29, 125). The pitching was not on a par with the hitting, but it still allowed the league's fewest runs. In the Series the Yankees defeated the New York Giants in six games, to win the first of four consecutive world championships. The Yankees of the late 1930s - whom few historians would overlook in compiling a short list of history's finest teams - were principally the creation of four men, each among the game's most competent: wealthy owner Jacob Ruppert, general manager Ed Barrow, farm director George Weiss (whom Ruppert had hired in the early '30s to build a farm system like that of the St. Louis Cardinals) and manager Joe McCarthy. In effect, the success of the '36 Yankees would be sustained for the next thirty years: from 1936 to 1964 the club would win 22 American League pennants and 16 World Series, the most prolonged period of domination in the history of American professional sports.
This ball includes the signatures of 16 players active in 1936 (with seven of the eight regulars present), plus manager McCarthy, coach Earle Combs, and pitcher Frank Makosky, who spent the season at the Yankees' Newark affiliate. Notably absent are Hall of Fame starting pitchers Red Ruffing and Lefty Gomez. Six Hall-of-Famers do appear: Gehrig, Lazzeri, DiMaggio, Dickey, McCarthy, and Combs. The inscription affirms what would in any case be the most logical conclusion as to date.
Provenance: Gift of Emmit Jennings.