1938 Chicago Cubs and New York Yankees / BAS875-2-13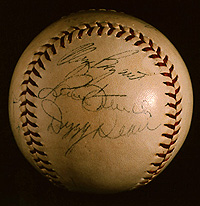 Upper panel
Ball type: Reach Official American League, single-stitched, William Harridge signature
Signatures: Nine, in fountain pen (one repeated). Back panel (sweet spot): Joe McCarthy. Upper panel: Clay Bryant, Larry French, Dizzy Dean. Right side panel: Red Rolfe, Clay Bryant, Red Corriden. Left side panel: Newt Kimball, Charlie Root.
Condition: All signatures discernable; fading runs from moderate to significant. Ball shows moderate natural discoloration.
Notes: The players represented on this ball were all members of the 1938 Cubs and Yankees, the competitors in that year's World Series. Bryant, French, Dean, Kimball, and Root were Cubs' pitchers, and Red Corriden a coach. Joe McCarthy (Yankees' manager) and Red Rolfe (their third baseman) were in the opposite dugout. The presence together of Kimball and Dean is helpful in establishing a date; the two were Chicago teammates only in late-season 1938, when Kimball was called up from Birmingham of the Southern Association. Most likely, the ball was signed at the World Series.
The Yankees were favored in the Series and didn't disappoint, sweeping the Cubs to win the third of four consecutive world championships. The only real theater occurred in Game 2, when former Cardinal star Dizzy Dean, pitching without his fastball in the wake of a serious 1937 arm injury, held the Yankees in check for seven innings before losing the game on a two-run homer by Frank Crosetti.
Provenance: Gift of Emmit Jennings.