1944 New York Giants / BAS875-1-5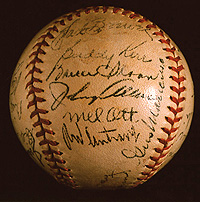 Upper panel
Ball type: Spalding Official National League, single-stitched, Ford C. Frick signature.
Signatures: Twenty-four, in fountain pen. Back panel (sweet spot): Red Treadway, George Hausmann. Upper panel: Jack Brewer, Buddy Kerr, Bruce Sloan, Johnny Allen, Mel Ott, Phil Weintraub, Gus Mancuso. Right side panel: Johnny Rucker, Bill Voiselle, Billy Jurges, Ray Berres, Ace Adams. Lower panel: Dolf Luque, Cliff Melton, Johnny Gee. Left side panel: Nap Reyes, Andy Hansen, Rube Fischer, Ernie Lombardi, Harry Feldman, Ewald Pyle, Hal Luby.
Condition: All signatures fully discernable; minimal to moderate fading. Ball shows moderate and uniform natural discoloration.
Notes: Like other American institutions, professional baseball was transformed during the war years of 1942-45. The Federal government's attitude toward the game was outlined in a note from President Roosevelt to Commissioner Landis of 14 January 1942: baseball should continue, Roosevelt believed, because it was beneficial for morale, but as a nonessential industry, no exemptions from war-related policies could be expected. Thus, for four seasons major league owners coped with the austerities of wartime America: transportation and accomodation shortages, a scarcity of raw materials, and (until May 1944) the prohibition of night games on the East coast due to blackout restrictions. By far the greatest problem, however, was the loss of players to military service. More than four hundred active major leaguers entered the armed forces over the course of the war, while minor league talent was so scarce that only seventy clubs took the field in 1944, down from 304 in 1941. But if the game on the field was obviously diminished by the departure of many of the game's best players, fans still turned out to see their replacements; by 1944 the worst of the financial reverses caused by the war had ended, while 1945 saw overall profits in the majors reach $1.2 million.
On the field, the New York Giants enjoyed little success during the war years. In 1943 the club had finished last, as an inordinate number of starters were lost to the war effort; 1944 began inauspiciously when unseasonably cold weather in New Jersey forced the cancellation of all but eight spring training games (teams trained in the North to conform with restrictions on nonessential travel). The Giants spent most of the regular season in fourth or fifth place, and ended up a distant fifth at 67-87. By 1944, most married players with dependency deferments had been drafted, and teams were increasingly reliant on underage and overage players, on part-timers retaining deferments by working weekdays in defense plants, and - above all - on 4Fs: men "physically, mentally, or morally unfit for service." The Giants had twenty-two players rated 4F on their 1944-45 reserve list, with disabilities ranging from the partial deafness of star pitcher Bill Voiselle (who led the National League in starts, innings, and strikeouts), to the trick back of outfielder Johnny Rucker. The 1944 infield of Weintraub, Hausmann, Kerr, and Luby exemplified the patchwork character of wartime rosters: Weintraub and Luby had been out of the majors since the '30s, while Hausmann and Kerr had a combined 27 games of big league experience. Elsewhere, the Giants lineup featured three aging Hall-of-Famers: outfielders Mel Ott and Joe Medwick, and catcher Ernie Lombardi. Ott had been a Giant since 1926, and player-manager since '42. When he left the game in 1947 after twenty-two seasons he held the National League career records for runs, RBIs, homers, and walks. His career as manager is perhaps best remembered for Leo Durocher's observation of him that "Nice guys finish last."
All the signers of this ball were active for New York in 1944, with the exception of Dolf Luque, a coach. Among those who saw significant playing time, the only notable absence is Medwick. Since pitcher Johnny Gee (who at six-foot nine exceeded the military's height limit by three inches) was purchased from Pittsburgh on 12 June, the ball must have been signed between that date and the end of the season.
Provenance: Gift of Emmit Jennings.