1962 Boston Red Sox / BAS875-1-9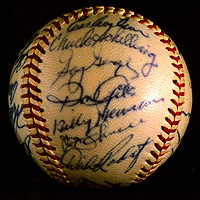 Left side panel
Ball type: Reach Official American League, single-stitched, Joseph E. Cronin signature.
Signatures: Thirty, in ballpoint. Back panel (sweet spot): Carl Yastrzemski, Mike Higgins. Front panel: Pumpsie Green, Bill Monbouquette. Upper panel: Rudy York, Pete Runnels, Bob Tillman, Lou Clinton, Russ Nixon, Galen Cisco, Ike Delock, Sal Maglie. Right side panel: Len Okrie, Arnold Early, Billy Gardner, Jim Pagliaroni, Hal Kolstad, Gene Conley. Lower panel: Frank Malzone, Mike Fornieles, Carroll Hardy, Chet Nichols, Eddie Bressoud. Left side panel: Earl Wilson, Chuck Schilling, Gary Geiger, Don Gile, Billy Herman, Don Schwall, Dick Radatz.
Inscriptions: "62" on front panel.
Condition: All signatures fully discernable; most reveal a minimal degree of bleeding. Ball evidences no significant discoloration or other flaws.
Notes: The 1962 Red Sox were one of eight consecutive losing Boston clubs spanning the years 1959-66 - the worst clubs in Thomas A. Yawkey's long tenure as owner (1933-76). The reasons for this lack of success are not too far to seek. Yawkey always spent money on the team, but few of his many "bonus babies" (promising amateurs of the pre-draft era who received large payments to sign with a given club) enjoyed big league success - partly because the organization was notoriously weak in the area of player development. Even more telling was Boston's reluctance to sign black or Hispanic players - and here Yawkey must be held immediately culpable. The Red Sox integrated their major league roster only in 1959, the last team to do so. Even in 1962 only two black players, Pumpsie Green and Earl Wilson, spent time with the club, while pitcher Mike Fornieles was the sole representative of the Caribbean basin. Another enduring problem was a clubhouse environment that did little to engender winning. Under manager Mike Higgins (1955-59, 1960-62) - a Yawkey crony with few leadership skills and an all-too-obvious alcohol dependency - Boston became known as the "country club," because of the evident lack of discipline and the relatively generous salaries enjoyed by the players: this environment was perpetuated under Higgins' immediate successors. All these factors conspired to keep the Red Sox from winning until a new generation of young players under authoritarian manager Dick Williams captured a surprise pennant in 1967.
The 1962 Red Sox, Mike Higgins' last club, never contended and finished eighth in the ten-team American League, at 76-84. The highlight of the season, on the field at least, was the pair of no-hit, no-run games thrown by Earl Wilson and Bill Monbouquette - making Boston the first AL team since 1917 to accumulate two no-hitters in a given year. Other performances of note were first baseman Pete Runnels' second batting title (.326), a solid second season by twenty-two year old outfielder (and future Hall-of-Famer) Carl Yastrzemski, and the overpowering work of "The Monster," rookie relief pitcher Dick Radatz. But Chuck Schilling and Don Schwall, two promising rookies from 1961, both fell flat in 1962, and everywhere the talent was thin. Boston's season is best remembered, though, for a bizarre incident in July, when pitcher Gene Conley and infielder Pumpsie Green disappeared from a team bus caught in a New York traffic jam. The two proceeded to go on a bender, with Conley, for reasons best known to himself, ultimately seeking to board a flight to Israel before returning to the club after four days' absence.
The signatures on this ball represent a complete twenty-five man roster, with the manager and all four coaches (York, Maglie, Okrie, and Herman). All players who made significant contributions are present; the Red Sox used only thirty-three men in 1962, and those absent from this ball totaled only 42 at-bats and 25 innings pitched. The ball may be dated to the weeks between 12 June (when Billy Gardner was purchased from the Yankees) and 7 September (when Galen Cisco was sold to the Mets).
Provenance: Purchase, 1996.