Hank Aaron / BAS875-3-9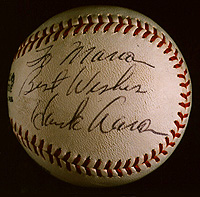 Right side panel
Ball type: Reach Official American League, single stitched, Joseph E. Cronin signature.
Signatures: One, in ballpoint. Right side panel: Hank Aaron.
Inscriptions: Right side panel: "To Marion / Best Wishes"
Condition: Signature and inscription fully discernable, with no apparent fading.
Notes: Henry Louis ("Hank") Aaron (1934- ) was one of organized baseball's first black stars, and among the finest all-round players in the game's history. He came to the majors less than a decade after integration, in 1954, when at the age of twenty he won a starting outfield spot for the Milwaukee Braves. In 1957, still only twenty-three, he was voted the National League's Most Valuable Player, hitting .322 with forty-four home runs and 132 runs batted in. Over the next decade such offensive numbers were, for Aaron, more the rule than the exception - production that was the more remarkable for having been achieved in Milwaukee's County Stadium, one of the league's most difficult parks in which to hit. In 1966 the Milwaukee franchise moved to Atlanta, and Aaron, now thirty-two, suddenly found himself in a park conspicuously favorable to hitting, especially the home run. As a result the ageing Aaron's seasonal home run totals remained high, and one of baseball's hallowed records, Babe Ruth's career mark of 714 homers, began to seem within reach. Throughout his career Aaron had received relatively little media attention for a player of his abilities, but his pursuit of Ruth's record was an event tailor-made for hype. It was a "chase" with an increasingly predictable winner, enacted over an extended period of time - involving, moreover, the ascendancy of a black man to the mythical title of home run king so closely identified with Ruth. By the time Aaron hit home run number 715 on 8 April 1974, he had been forced to endure a year-long media circus that spawned a torrent of hate mail and other racial abuse - abuse that routinely included threats on his life. He left Atlanta after the 1974 season to conclude his playing career in Milwaukee, but returned to the Braves in an executive capacity, spending thirteen years as director of player development. Besides his career home run record (755), Aaron also ranks first among all players in RBIs (2297), second in at-bats (12364) and runs (2174), and third in games played (3298) and hits (3771).
The relative flamboyance of the signature and the use of "Hank" rather than "Henry" both suggest that the ball does not predate the later years of Aaron's career. An educated guess would date the ball to Aaron's two seasons with the Milwaukee Brewers (1975-76), even though Joe Cronin stepped down as American League president in 1973; while with Milwaukee Aaron would necessarily have played in Cleveland, where he would have been most accessible to the ball's former owner, Ohioan Mike Ravine.
Provenance: Gift of Mike Ravine.