Happy Chandler / BAS875-3-12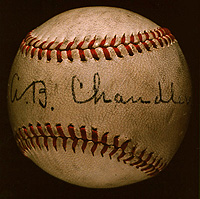 Back panel (sweet spot)
Ball type: Reach Official American League, single-stitched.
Signatures: One, in fountain pen. Back panel (sweet spot): Happy Chandler.
Condition: Signature fully discernable, with minimal fading. Ball shows moderate natural discoloration, and some soiling. League/league president stamp on front panel undecipherable.
Notes: A. B. ("Happy") Chandler was a United States senator (and former governor) from Kentucky who in 1945 became the second commissioner of organized baseball. The commissioner's office had been created by the major league owners in 1921, in an attempt to restore the public's confidence in a game shaken by revelations of the "fixing" of the 1919 World Series. Ostensibly, the commissioner provided baseball with a supreme and impartial arbiter, capable of suspending, fining, or banishing leagues, owners, and players whose actions were "detrimental to the best interests of the national game." In fact, this function has historically been compromised by the owners' exclusive right to select, and re-elect, the office holder. Chandler was chosen as one who would, presumably, comply with the owners' sense of what was good for the game - but the reality proved different. Many of his key decisions were essentially unpopular with management: his acquiescence to Branch Rickey's integration of the major leagues in 1947; his banishment from baseball of the "defectors" to Jorge Pasquel's Mexican League; his allocation of money from broadcast rights to a newly established player pension fund (1949). In 1951 Chandler failed to receive the two-thirds endorsement by the owners necessary for re-election, and was replaced by National League president Ford Frick. Today he is generally regarded as the most fair-minded of commissioners; in 1982 he was named to the Baseball Hall of Fame.
Provenance: Gift of Mike Ravine.