Joe DiMaggio / BAS875-3-15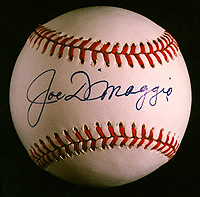 Back panel (sweet spot)
Ball type: Rawlings Official American League, single-stitched, Gene Budig signature.
Signatures: One, in ballpoint. Back panel (sweet spot): Joe DiMaggio.
Condition: Ball and signature as new.
Notes: By the time Joe DiMaggio (1914-1999) retired after thirteen seasons as center fielder of the New York Yankees (1936-42, 1946-51), he was the greatest celebrity in the game - a status he has arguably never relinquished. Why this should be so is an intriguing question - though not, perhaps, a simple one. There is, of course, his talent: the statistics testify to his extraordinary capabilities as a hitter, and contemporary accounts are uniformly praiseworthy in describing his abilities as an outfielder and as a baserunner. In fact, DiMaggio's career statistical totals are probably a less accurate index of his true abilities than is the case with most players. Not only did he miss three prime seasons due to service in World War II, but he played his entire career in Yankee Stadium, a park whose enormous left-center field curtailed his power numbers. He also played in an era in which the stolen base was not part of the offensive arsenal; his totals here are negligible, despite his very apparent speed and base-running ability. Another important dimension of DiMaggio's fame was the style with which he played. His athletic persona was very much that of the "natural," of the man of tremendous innate ability who accomplishes difficult physical feats with grace and apparent ease. Certainly he needed little tutoring as a hitter; in 1933, only eighteen years old and with no prior professional experience, he hit safely in sixty-one consecutive games for San Francisco of the Pacific Coast League, the longest such streak in the history of organized baseball (and a prelude to his most celebrated accomplishment in the majors, the record fifty-six game hitting streak of 1941). Another factor contributing to his celebrity was the fact that he played in New York, for Yankee teams that won ten pennants and nine world championships in his thirteen seasons with the club.
Early in his career DiMaggio was certainly not immune from criticism. His disputes with management over salary in 1938 and 1942 were not viewed sympathetically in the press, and as the first great Italian-American star he routinely encountered the casual ethnic stereotyping of the day. After the war, though, this stereotyping all but disappeared. DiMaggio's voluntary enlistment was of symbolic importance in affirming the loyalty of Italian-Americans in a war against their land of origin; it also seems to have confirmed his acceptance as an assimilated ethnic. Though age and injuries made DiMaggio a lesser player than he had been before the war, his popularity only increased. His personality probably had a great deal to do with this. DiMaggio was a shy man, not overly articulate or sure of himself away from the diamond, who avoided publicity insofar as this was possible. In time, this introversion contributed to the not entirely untruthful perception of DiMaggio as the consummate team-oriented superstar, uncomplaining, uncontroversial, always leading by example. When chronic injuries encouraged his decision to retire after the 1951 season, the Yankees sought to dissuade him with a salary offer of $100,000 for half the1952 schedule. DiMaggio was elected to the Hall of Fame in 1955, and on the occasion of baseball's centennial observance in 1969 was voted the game's greatest living player.
This ball was presented to Rev. Edmund P. Joyce, C. S. C., Executive Vice-President Emeritus of the University of Notre Dame, by George Steinbrenner, principal owner of the New York Yankees, at the sixth game of the 1996 World Series in New York. Father Joyce and Rev. Theodore M. Hesburgh, C .S. C., President Emeritus of the University, threw out the ceremonial first pitches prior to the game, in which the Yankees defeated the Atlanta Braves to win the world championship.
Provenance: Gift of Reverend Edmund P. Joyce, C. S. C., 1996.