Joe McCarthy with Mickey Doolan / BAS875-2-5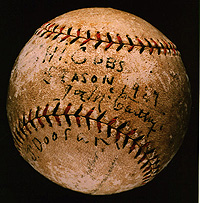 Back panel (sweet spot)
Ball type: Spalding Official National League, double-stitched, John Heydler signature.
Signatures: Two, in fountain pen. Back panel (sweet spot): Joe McCarthy. Right side panel: Mickey Doolan.
Inscriptions: "CHI CUBS SEASON 1927" on back panel.
Condition: Signatures fully discernable. Surface of ball shows abraded areas (two of which partly obscure the inscription) and significant discoloration.
Notes: In October 1925 William L. Veeck of the Chicago Cubs hired a successful minor league manager named Joe McCarthy to boost the fortunes of his last-place team. In his first season McCarthy improved the Cubs by fourteen games, and in 1927 had the club in first place in August before finishing fourth. A near miss in 1928 was followed by a superb 1929 season that saw the Cubs win the National League pennant by 10 1/2 games. In late-season 1930, however, McCarthy resigned, opening the way for a job with the Yankees (where he would remain sixteen years and earn his greatest fame). McCarthy's outstanding career record — twenty-four +.500 finishes in twenty-four seasons, and the highest winning percentage in major league history — has often been dismissed as a near-inevitable consequence of his teams' superior talent. This view fails to do him justice. He did indeed have great players, but he also had very real strengths as a manager — unrivalled strengths, in the opinion of analyst Bill James, who provides a fine overview of McCarthy's abilities and tendencies in his recently published (1997) study of managing. The other signature on this ball belongs to Mickey Doolan, a dead-ball era shortstop and Cubs coach from 1926-28.
Provenance: Gift of Emmit Jennings.