Babe Ruth / BAS875-5-2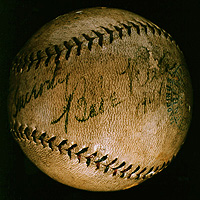 Upper panel
Ball type: Reach Official American League, double stitched, Ernest S. Barnard signature.
Signatures: One, in fountain pen. Upper panel: Babe Ruth.
Inscriptions: "To Mike Ravine Sincerely Babe Ruth 19[??]" extending across lower, back, and upper panels.
Condition: First four words of inscription show little deterioration. "Babe" fully discernable but significant fading evident; "Ruth" partly effaced by a small scuff, with significant fading. Last two digits of date indecipherable. Ball reveals a number of scuff marks, and has been shellacked.
Notes: Available evidence suggests that this ball dates from the last weeks of Ruth's life, when he was a cancer patient in Memorial Hospital, New York. In the years following his retirement as a player (1935) Ruth's popularity remained high; he dabbled in the media, did endorsements, made personal appearances, and generally went about being Babe Ruth. He played a great deal of golf. Thanks to his agent Christy Walsh and his second wife, Claire Hodgson Ruth, who managed his income, he was financially secure. His great ambition was to manage in the major leagues, but an offer was never forthcoming. In late 1946 he was hospitalized with a malignant growth in his neck; the operation was not wholly successful, and he entered Memorial, a cancer center, on 26 June 1948. He last left the hospital on 26 July, to attend the premiere of the awful film The Babe Ruth Story. He died less than a month later, on 16 August 1948.
The unsigned ball was evidently sent to Ruth at Memorial by its owner, collector Mike Ravine of New Philadelphia, Ohio. It is known that the hospitalized Ruth received very large amounts of mail; it is likewise known that he periodically occupied himself by signing batches of photographs to be sent to the many fans requesting his autograph. The package in which the newly signed ball was returned to Ravine has survived; it includes a metered circular date stamp marked July 29, 1948, and a return address (written in the same green ink as was used on the ball) reading "951 / Memorial Hsp / 444E68 / NYC". The ball itself is considerably older than the signature. In a letter to Ravine of 18 September 1969, the former director of the National Baseball Hall of Fame and Museum, Ken Smith, wrote of the piece that ". . . the fact that it was one of [Ruth's] home run balls of 1927 makes it a valuable memento in itself. . ." Where or how this association originated is anyone's guess. A 1927 date, however, is inconsistent with the presence of the stamped signature of Ernest S. Barnard, who became American League president only in October of that year, after the season was over. In all probability, the ball dates from 1928-31. Ravine and Smith's correspondence pertained to the possibility of the ball's being donated to Cooperstown - a donation made in 1969 but reversed, at Ravine's request, in the mid-eighties.
Provenance: Gift of Mike Ravine.