1925 World Series with Honus Wagner et al / BAS875-2-3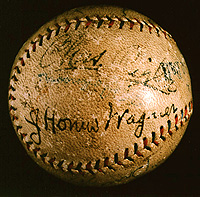 Right side panel
Ball type: Reach Official American League, double stitched, Ban Johnson signature.
Signatures: Five, in fountain pen. Upper panel: [undecipherable], Brick Owens. Right side panel: Charles Rigler, Honus Wagner. Lower panel: Pie Traynor.
Inscriptions: "From 'Brick' Owens World Series 1925 To Emmit Jennings Oct. 10th 1925 Washington" across upper, back and lower panels. "This is to the Best and Youngest Cowboy [undecipherable]" on left side panel.
Condition: Significant fading and deterioration throughout with the exception of Wagner's signature, which shows only very minor deterioration. Traynor's signature largely effaced. Ball surface moderately soiled with numerous small scuff marks; significant natural discoloration.
Notes: To many who saw him perform - and to some present-day historians and analysts - John Peter ("Honus") Wagner (1874-1955) was the single greatest player in the game's history. In a twenty-one year National League career (1897-1917) with the Louisville Colonels and Pittsburgh Pirates, Wagner displayed all the obvious virtues one might seek in a player, and displayed them consistently and conspicuously. Forty-two times he led the league in one or another of the basic offensive categories: he hit for average (eight batting championships and four on base titles), he hit for power (five RBI titles and six slugging crowns), and he could run (leading the NL in stolen bases on five occasions). Some of his totals (101 career home runs) may seem modest by latter-day standards, but it must be recalled that his career coincided with the "dead-ball era," when offensive production was at an historic low and home runs were rare; all his batting statistics must be viewed in this context. What truly set him apart, though, was his combination of outstanding offensive skills with great defensive ability as a shortstop. Early in his career his versatility caused him to be moved from position to position; only in 1903 did he settle in at short, the diamond's most demanding spot. Fielding is notoriously difficult to evaluate, but Wagner's reputation among his peers was excellent, and the statistical evidence suggests that, once he learned the position, he was among the very best in the game. In appearance Wagner was an ungainly man, with broad shoulders, long arms, huge hands, and very bowed legs - but he was remarkably fast and strong, the best athlete in the game. He was also one of baseball's most admired individuals: the contemporary testimonials to this are legion.
The 1925 World Series was one of the most dramatic in the game's history, with Wagner's old team, the Pittsburgh Pirates, coming back from a three games to one deficit to defeat the American League champion Washington Nationals. During his career Wagner had permitted relatively few articles to be published over his byline, but he agreed to "cover" the 1925 Series for the Christy Walsh Syndicate, and viewed the games from the press box. The main inscription suggests that the ball was obtained by its original owner, Chicago American sportswriter Emmit Jennings, at Game Three in Washington on 10 October. Brick Owens, who penned the inscription, and Cy Rigler were two of the four umpires chosen to work the Series. As it happens, in this game Rigler was involved in one of the most controversial calls in Series history - which may account for the presence of his signature. In the eighth inning, with Washington leading 4-3, Pirates catcher Earl Smith drove a ball deep to right-center field, towards the temporary bleachers set up to handle the overflow crowd. Hall of Fame outfielder Sam Rice raced to the seats and leaped into the crowd as the drive came down; after a noticeable delay he emerged holding the ball, and Rigler declared Smith out. Pirates manager Bill McKechnie protested vociferously that none of the umpires had actually seen Rice make the catch, but Rigler stood by his call, and the game ended in a 4-3 Washington win. That winter the rule book was emended to make any fair ball entering the stands a home run.
Provenance: Gift of Emmit Jennings.