Physical Exhibits in Special Collections
---
Rare Books and Special Collections regularly presents exhibits of materials from its holdings in our Exhibit Room (102 Hesburgh Library, at the west end of the 1st floor concourse) and on our Web site.
All exhibits are free and open to the public during our regular hours.
---
Currently on Display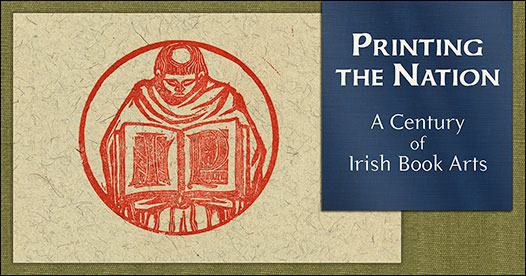 Printing the Nation: A Century of Irish Book Arts
January - July, 2023
What is an Irish book? Is it a book in the Irish language, printed in a Gaelic font? Is it a book by an Irish writer? Is it a book printed in Ireland on Irish-made paper?
We have selected books from the Hesburgh Libraries' Special Collections to demonstrate the art and craft of the Irish book since 1900. The printing houses whose work is shown here have all been leaders in various aspects of book arts, from the press of the Yeats sisters in the early twentieth century to the Salvage Press of today.
The selection of font, illustrations, and decorative style were carefully considered by the printers and publishers, and this small variety of books display various aspects of the art of printing and book design as practiced in Ireland.
This exhibit is curated by Aedín Ní Bhróithe Clements (Irish Studies Librarian and Curator of Irish Studies Collections).

Related Events
Tours of the exhibit may be arranged for classes and other groups, and additional curator-led tours are available at 12 noon on the following Fridays:
February 24
March 10 and 31
April 7 and 21

This and other exhibits within the library are generously supported by the McBrien Special Collections Endowment.
---
Spotlight Exhibits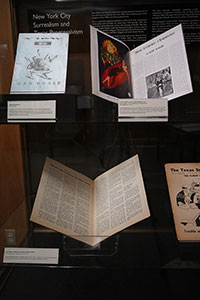 May-August 2023 | New York City Surrealism and Texas Progressivism in the 1940s
This spotlight exhibit features select issues from two recently acquired limited runs of American periodicals from the 1940s, New York's View and The Texas Spectator.
This exhibit is curated by Rachel Bohlmann, PhD, (Curator of North Americana and American History Librarian).
April-May 2023 | Hagadah shel Pesaḥ le-zekher ha-Sho'ah - Pessach Haggadah in memory of the Holocaust
This spotlight exhibit commemorates the Holocaust Remembrance Day (Yom HaShoah) which, according to the Jewish calendar, takes place on the 27th day of the month of Nisan, shortly after Passover (Pessach). This year Yom HaShoah will be observed on April 18th. On display below are three leaves from a special limited illustrated edition of Pessach Hagaddah.
This exhibit is curated by Natasha Lyandres (Russian and East European Studies Librarian).
For information about previous spotlight exhibits, please refer to the History of Spotlight Exhibits page.
---
Upcoming Exhibits
An exhibiton on Enslaved Peoples of the Western Hemisphere, early modern to modern period
An exhibtion in conjunction with the Medieval Academy of America's Annual Meeting, which is to be hosted at Notre Dame.
100th Anniversary of the Four Horsemen of Notre Dame
Suggest an Exhibit
Many of the exhibits presented by the Department of Special Collections are produced in collaboration with members of the Notre Dame teaching and research faculty and are scheduled to coincide with significant academic conferences at the University. If you have a suggestion for a future exhibit and/or would like to assist in producing one, please contact Special Collections at 631-0290 or by e-mail.