Physical Exhibits in Special Collections
Rare Books and Special Collections regularly presents exhibits of materials from its holdings in our Exhibit Room (102 Hesburgh Library, at the west end of the 1st floor concourse) and on our Web site.
All exhibits are free and open to the public during our regular hours.
---
Currently on Display
In Solzhenitsyn's Circle: The Writer and His Invisible Allies
August 20 - December 14, 2018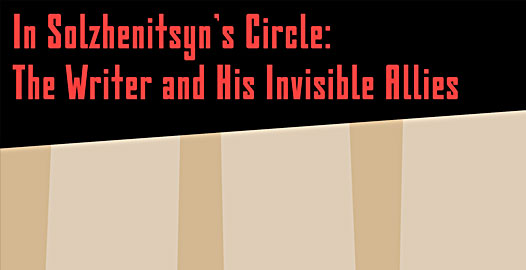 This exhibition, marking the centenary of Aleksandr Solzhenitsyn's birth, coincides with the launch of the Solzhenitsyn Initiative by the Notre Dame Center for Ethics and Culture as well as the publication of the first English translation of several of Solzhenitsyn's works by the University of Notre Dame Press.
Aleksandr Isaevich Solzhenitsyn (1918-2008) was one of the most influential writers of the twentieth century. His long life encompassed the entire Soviet period of Russian history, whose tumultuous events became the focus of his literary and spiritual interests. Drawing from his own experiences as a young Marxist, as a Red Army artillery captain during the Second World War, and as a survivor of the Soviet labor camps system (the Gulag) and of deadly cancer, Solzhenitsyn embraced the Christian faith and wrote about the tragedy of the Russian Revolution and the evils of the Communist system. Through his open criticism of the Soviet regime, he emerged as a moral and spiritual leader of the anti-Soviet resistance and a spokesperson for all those oppressed and persecuted by Communist authorities.
But Solzhenitsyn was not alone in his battles with the totalitarian state. He relied on a clandestine circle of loyal supporters at home and abroad—courageous, committed men and women who risked their lives assisting Solzhenitsyn. They helped him break through the walls of official censorship and deliver his message to the world. Solzhenitsyn dared not name them until after the collapse of the USSR, when he acknowledged their contributions in his memoirs as nevidimki—invisible allies.
This exhibition presents a small selection of materials from collections recently acquired by the Hesburgh Libraries and seeks to highlight the personal stories of Solzhenitsyn's invisible allies, and their contributions to the life and work of the great writer.
This exhibit is curated by Natasha Lyandres, Curator, Russian and Eastern European Studies Librarian, Head of Special Collections.
---
Spotlight Exhibit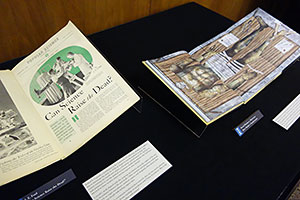 A Modern Prometheus: Balancing Science and Ethics
September - October 2018
Images of Mary Shelley's monster being created by the mad scientist delight and horrify audiences. Yet, these images also illuminate larger issues about humans and science. Showcased in this display are Humphry Davy's Elements of Chemical Philosophy, J. E. Ford's Popular Science essay "Can Science Raise the Dead?" and David Plunkert's new, illustrated edition of Frankenstein.
This exhibit is curated by Julie Tanaka, Curator, Special Collections.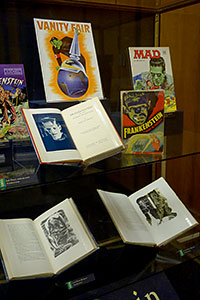 Frankenstein 200
August - December 2018
Mary Shelley's imagination created a monster who has captured artistic imaginations for two centuries. Theodor von Holst introduced the monster visualy in 1831, in the first illustrated edition. His creation remained the main representation until the 20th century when Jack Pierce and his makeup wizardry made Boris Karloff the iconic monster. Variations of this icon abound on covers of comic books and magazines. Come celebrate his birthday with a visual tour in Special Collections' fall spotlight exhibit Frankenstein 200.
This exhibit is curated by Julie Tanaka, Curator, Special Collections.
For information about previous spotlight exhibits, please refer to the History of Spotlight Exhibits page.
---
Upcoming Exhibits
North American Ice Skating
Suggest an Exhibit
Many of the exhibits presented by the Department of Special Collections are produced in collaboration with members of the Notre Dame teaching and research faculty and are scheduled to coincide with significant academic conferences at the University. If you have a suggestion for a future exhibit and/or would like to assist in producing one, please contact Special Collections at 631-0290 or by e-mail.