The Dante Collection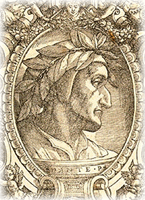 The Zahm Dante Collection ranks among the top Dante Alighieri-related collections in North America. Purchased for the most part by John A. Zahm, C.S.C., in 1902 from the Italian Dantophile Giulio Acquaticci, the 15th- and 16th-century imprints form the heart of the Dante collection, which totals over 3,500 volumes. Rare editions and critical studies ranging from the Renaissance to the present include eight incunabula and almost every edition published in the 16th century.
An exhibit of these early editions was on display in 1994 at Notre Dame and then at the Newberry Library in Chicago. It portrayed primary sources essential to both the history of Dante's reception during the Renaissance and to the early history of the printed book. An online version of the exhibit may be visited at: Renaissance Dante in Print (1472-1629).
For more links to Dante-related programs at Notre Dame please visit The William and Katherine Devers Program in Dante Studies.