The Edmund Burke Collection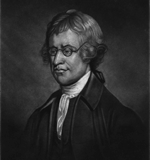 William B. Todd wrote the descriptive bibliography of the works of Irish statesman Edmund Burke (1729?-1797). Numbering over 260 volumes, this collection was Todd's own library of early editions of Burke and of contemporaries such as Bolingbroke, Paine, and Sheridan. The collection also includes a set of The Annual Register from 1759 to 1802.
The collection was acquired by purchase in 1994 with a finding aid: Todd's own list numbered according to his book, A Bibliography of Edmund Burke (London: Hart-Davis, 1964).
Below is a checklist of the works by Burke that came with the Todd Collection. You may also view library catalog records for all works in the original collection. Please note that Special Collections continues to acquire editions of Burke's works that were not among the editions that came with Todd's library. For these, and for other works about Burke and his contemporaries in print and microformats in the University Libraries, you may search the ND Libraries catalog.
---
Checklist of the Works of Edmund Burke
A Vindication of Natural Society... London: for M. Cooper, 1756. (Todd 3a)
________. [In] Fugitive Pieces. 2d ed. London: J. Dodsley, 1765. (Todd 3d)
________. 3d ed. London: for J. Dodsley, 1780. Bound with 29b. (Todd 3f)
An Account of the European Settlements in America... London: for R. and J. Dodsley, 1757. (Todd 4a)
________. 2d ed. 2 vols. London: for R. and J. Dodsley, 1758. (Todd 4b)
________. A New Edition. 2 vols. London: for John Joseph Stockdale, 1808. (Todd 4j)
A Philosophical Enquiry into the Origin of our Ideas of the Sublime and Beautiful. London: for R. and J. Dodsley, 1757. (Todd 5a)
________. 2d ed. London: for R. and J. Dodsley, 1759. (Todd 5b)
________. 4th ed. London: for R. and J. Dodsley, 1764. (Todd 5d2)
________. 6th ed. London: for J. Dodsley, 1770. (Todd 5f)
________. 8th ed. London: for J. Dodsley, 1776. (Todd 5h)
________. 9th ed. London: for J. Dodsley, 1782. (Todd 5i)
________. A New Edition. London: for J. Dodsley, 1787. (Todd 5j)
________. A New Edition. London: for J. Dodsley, 1793. (Todd 5k)
________. A New Edition. London: for F. and C. Rivington [et al.], 1801. (Todd 5m)
________. A New Edition. London: for F. and C. Rivington [et al.], 1801. Second copy. (Todd 5m)
________. A New Edition. London: for F. and C. Rivington [et al.], 1807. (Todd 5n)
________. A New Edition. London: for F. C. and J. Rivington [et al.], 1812. (Todd 5o)
________. 5th ed. Berwick: R. and J. Taylor, 1772. (Todd 5q)
________. New ed. Basil: J. J. Tourneisen, 1792. (Todd 5s)
The Sublime and Beautiful. Oxford: Universities of Oxford [&c], 1796. (Todd 5t)
The Sublime and Beautiful. Oxford: Universities of Oxford [&c], 1796. Second copy. Variant 1a. (Todd 5t)
The Sublime and Beautiful. Oxford: Universities of Oxford [&c], 1796. Third copy. Variant 2a. (Todd 5t)
A Philosophical Inquiry. Philadelphia: S. F. Bradford, 1806. (Todd 5v)
________. Chiswick: C. Whittingham [&c], 1820. (Todd 5bb)
________. London: T. M'Lean, 1823. (Todd 5dd)
________. London and Edinburgh: T. & J. Allman [et al], 1824. (Todd 5ff)
The Annual Register... 44 vols. + 2 vol. index. London: for R. and J. Dodsley, 1759-1802. (Todd 7-14)
A True History of a Late Short Administration. London: J. Almon, 1766. (Todd 15d)
Observations on a Late State of the Nation. London: for J. Dodsley, 1769. (Todd 16a)
________. 2d ed. London: for J. Dodsley, 1769. (Todd 16b)
________. 4th ed. London: for J. Dodsley, 1769. Bound with six other works. (Todd 16d)
Thoughts on the Cause of the Present Discontents. London: for J. Dodsley, 1770. (Todd 17a)
________. 2d ed. London: for J. Dodsley, 1770. (Todd 17b)
________. 5th ed. London: for J. Dodsley, 1775. Bound with 16d. (Todd 17e)
________. 6th ed. London: for J. Dodsley, 1784. (Todd 17f)
Mr. Edmund Burke's Speeches at His Arrival at Bristol... London: for J. Wilkie, 1774. (Todd 23a)
________. 2d ed. London: for J. Dodsley, 1775. Bound with 16d. (Todd 23b)
Speech of Edmund Burke, Esq. on American Taxation... London: for J. Dodsley, 1775. (Todd 24a)
________. 3d ed. London: for J. Dodsley, 1775. (Todd 24c)
________. 4th ed. London: for J. Dodsley, 1775. Bound with 16d. (Todd 24d)
The Speech of Edmund Burke, Esq; on Moving His Resolutions for Conciliation with the Colonies... 2d ed. London: for J. Dodsley, 1775. (Todd 25b)
________. 3d ed. London: for J. Dodsley, 1775. Bound with 16d. (Todd 25c)
A Letter from Edmund Burke...to John Farr and John Harris...on the Affairs of America. 3d ed. London: for J. Dodsley, 1777. (Todd 28d)
________. 4th ed. London: for J. Dodsley, 1777. [Todd identifies as first Bristol ed., second issue]. Bound with 16d. (Todd 28e)
Two Letters... Relative to the Trade of Ireland. 2d ed. London: for J. Dodsley, 1778. Bound with 16d. [Todd identifies as first ed., second impression]. (Todd 29b)
________. 2d ed. London: J. Dodsley, 1778. Second copy. Bound with five other works. (Todd 29b)
The Proceedings at Large of the Court-Martial, on the Trial of the Honourable Augustus Keppel... London: for J. Almon, 1779. Bound with one other work. (Todd 30e)
________. Dublin: for the Company of Booksellers, 1779. Bound with one other work. (Todd 30g)
Substance of the Speeches...for the Retrenchment of Public Expences, and for the better securing the Independence of Parliament. London: for J. Almon, 1779. (Todd 31)
The Yorkshire Question, or Petition, or Address... London: for J. Almon, 1780. (Todd 32.2)
The Speech of Edmund Burke...on his Motions for a Plan of Public Oeconomy... London: for John Hay, 1780. [Unique copy. A pirated edition labeled 'Second Edition'; not in the bibliography. Filed under Todd 33a.]
________. London: for J. Dodsley, 1780. [Todd identifies as first (authorized) ed.]. (Todd 33b)
________. A new ed. London: for J. Dodsley, 1780. [Todd identifies as first (authorized) ed., second impression]. (Todd 33c)
________. London: for J. Dodsley, 1780. [Todd identifies as counterfeit ed.]. (Todd 33f)
________. A new ed. London: for J. Dodsley, 1780. (Todd 33g)
A Letter from Edmund Burke in Vindication of his Conduct with Regard to the Affairs of Ireland... London: for J. Bew, 1780. (Todd 34b)
A Speech...at the Guildhall, in Bristol...Upon Certain Points Relative to his Parliamentary Conduct. London: for J. Dodsley, 1780. (Todd 39a)
________. 3d ed. London: for J. Dodsley, 1780. [Todd identifies as first ed., third impression]. (Todd 39c)
________. 4th ed. London: for J. Dodsley, 1782. (Todd 39d)
________. 5th ed. London: for J. Dodsley, 1782. Bound with 29b. (Todd 39e)
________. Dublin: R. Marchbank, 1780. (Todd 39f)
The Beauties of Fox, North, and Burke... London: for J. Stockdale, 1784. (Todd 43a)
Mr. Burke's Speech...on Mr. Fox's East India Bill. London: for J. Dodsley, 1784. (Todd 44a)
________. London: for J. Dodsley, 1784. Second copy. (Todd 44a)
The Deformities of Fox and Burke... London: for J. Stockdale, 1784. (Todd 45a)
The Beauties and Deformities of Fox, North, and Burke... 5th ed. London: for J. Stockdale, 1784. (Todd 45e)
A Representation to His Majesty. New ed. London: for J. Debrett, 1785. (Todd 46b)
________. New ed. London: for J. Debrett, 1785. Second Copy. Bound with 29b. (Todd 46b)
Mr. Burke's Speech...on the Nabob of Arcot's Private Debts... London: for J. Dodsley, 1785. Bound with 29b. (Todd 47a)
Articles of Charge of High Crimes and Misdemeanors, against Warren Hastings...Presented to the House of Commons upon the Twenty-Sixth and Twenty-Eighth days of April, 1786... London: for John Stockdale, 1786. (Todd 48b 1-4)
Articles of Charge...Presented...on the 4th day of April 1786... London: for J. Debrett, 1786. (Todd 48c 1-3)
Articles of Charge...Presented...in the Months of April and May 1786... London: for J. Debrett, 1786. Bound with three other works. (Todd 48d.4)
A Letter to Philip Francis, Esq. from the Right Hon. Edmund Burke...for managing the Impeachment of Mr. Hastings... London: for John Murray and John Stockdale, 1788. (Todd 50a)
________. 2d ed. London: for John Stockdale, 1788. (Todd 50b)
A Collection of Poems, mostly Original... Dublin: for the editor by M. Graisberry, 1789. (Todd 51)
Substance of the Speech of the Right Honourable Edmund Burke, in thr [sic] Debate on the Army Estimates... London: for J. Debrett, 1790. (Todd 52a)
________. 4th ed. London: for J. Debrett, 1790. [Todd identifies as first ed., fourth impression]. (Todd 52d)
________. 4th ed. London: for J. Debrett, 1790. Second copy. Bound with 29b. (Todd 52d)
Reflections on the Revolution in France... London: for J. Dodsley, 1790. Bound with three other works. (Todd 53a)
________. 2d ed. London: for J. Dodsley, 1790. Variant a,y. (Todd 53b)
________. 2d ed. London: for J. Dodsley, 1790. Second copy. Bound with two other works. Variant b,y. (Todd 53b)
________. 2d ed. London: for J. Dodsley, 1790. Bound with one other work. (Todd 53c)
________. 2d ed. London: for J. Dodsley, 1790. Second copy. Bound with 53t. (Todd 53c)
________. 2d ed. London: for J. Dodsley, 1790. (Todd 53d)
________. 2d ed. London: for J. Dodsley, 1790. (Todd 53e)
________. 2d ed. London: for J. Dodsley, 1790. Second copy. (Todd 53e)
________. 3d ed. London: for J. Dodsley, 1790. (Todd 53f)
________. 4th ed. London: for J. Dodsley, 1790. [Todd identifies as third ed., second impression]. (Todd 53g)
________. 4th ed. London: for J. Dodsley, 1790. Second copy. Bound with two other works. (Todd 53g)
________. 5th ed. London: for J. Dodsley, 1790. [Todd identifies as third ed., third impression]. (Todd 53h)
________. 6th ed. London: for J. Dodsley, 1790. [Todd identifies as third ed., fourth impression]. (Todd 53i)
________. 7th ed. London: for J. Dodsley, 1790. [Todd identifies as third ed., fifth impression]. (Todd 53j)
________. 7th ed. London: for J. Dodsley, 1790. Second copy. Bound with one other work. (Todd 53j)
________. 8th ed. London: for J. Dodsley, 1791. [Todd identifies as third ed., sixth impression]. (Todd 53k)
________. 9th ed. London: for J. Dodsley, 1791. [Todd identifies as third ed., seventh impression]. (Todd 53l)
________. 10th ed. London: for J. Dodsley, 1791. [Todd identifies as third ed., eighth impression]. (Todd 53m)
________. 10th ed. London: for J. Dodsley, 1791. Second copy. (Todd 53m)
________. 11th ed. London: for J. Dodsley, 1791. [Todd identifies as third ed., ninth impression]. (Todd 53n)
________. 12th ed. London: for J. Dodsley, 1793. [Todd identifies as fourth ed.]. (Todd 53o)
Réflexions sur la Revolution de France... 2d ed. Paris: Laurent fils; and London: Edward, 1790. Bound with one other work. [Todd identifies as first French ed., third impression]. (Todd 53r)
________. 2d ed. Paris: Laurent fils; London: Edward, 1791. [Todd identifies as first French ed., fourth impression]. (Todd 53s2)
________. 2d ed. Paris: Laurent fils; London: Edward, 1791. Bound with 53c. [Todd identifies as first French ed., fifth impression]. (Todd 53t)
________. 5th ed. Paris: Laurent et fils; London: Edward, 1791. [Todd identifies as third French ed.]. (Todd 53y)
Reflections on the Revolution in France... Dublin: W. Watson [&c], 1790. (Todd 53aa)
________. New Ed. Dublin: Apollo Press, J. Bell, 1814. (Todd 53ll)
Bemerkungen über die Französische Revolution... Wien: J. Stahel, 1791. (Todd 53ww)
Lettre de M. Burke, á un Membre de L'Assemblée Nationale de France. [Paris: Artaud], 1811. Bound with 53r. [Todd identifies as second counterfeit ed.]. (Todd 54c)
A Letter from Mr. Burke, to a Member of the National Assembly... Paris and London: for J. Dodsley, 1791. Bound with 53b. [Todd identifies as first English ed., first impression]. (Todd 54d)
________. 2d ed. Paris and London: for J. Dodsley, 1791. [Todd identifies as first English ed., second impression]. (Todd 54e)
________. 3d ed. Paris and London: for J. Dodsley, 1791. [Todd identifies as first English ed., third impression]. (Todd 54f)
________. 4th ed. Paris and London: for J. Dodsley, 1791. Bound with 53c. [Todd identifies as first English ed., fourth impression]. (Todd 54g)
________. 5th ed. Paris and London: for J. Dodsley, 1791. (Todd 54h)
An Appeal from the New to the Old Whigs... London: for J. Dodsley, 1791. Bound with three other works. (Todd 56a)
________. London: for J. Dodsley, 1791. Second copy. Bound with 53b. (Todd 56a)
________. 2d ed. London: for J. Dodsley, 1791. Bound with three other works. [Todd identifies as first ed., second impression]. (Todd 56b)
________. 2d ed. London: for J. Dodsley, 1791. Second copy. Bound with 53g. (Todd 56b)
________. 4th ed. London: for J. Dodsley, 1791. [Todd identifies as first ed., fourth impression]. (Todd 56d)
A Letter from the Right Hon. Edmund Burke...to Sir Hercules Langrishe on the Subject of Roman Catholics of Ireland. Dublin: P. Byrne, 1792. (Todd 59a.2)
________. London: for J. Debrett, 1792. Bound with 56a (Todd 59c)
________. 2d ed. London: for J. Debrett, 1792. [Todd identifies as first London ed., second impression]. (Todd 59d)
J. P. Brissot, Deputy of Eure and Loire to His Constituents on the Situation of the National Convention... London: for John Stockdale, 1794. (Todd 62a)
________. A New Edition. London: for John Stockdale, 1794. [Todd identifies as third ed., first impression]. (Todd 62c)
________. A New Edition. London: for John Stockdale, 1794. [Todd identifies as third ed., second impression]. (Todd 62d)
Substance of the Speech of the Right Honourable Edmund Burke...in Answer to Certain Observations on the Report of the Committee of Managers. London: for J. Debrett, 1794. (Todd 64b)
A Letter from the Right Honourable Edmund Burke to a Noble Lord... London: for J. Owen, 1796. (Todd 65a.1)
________. London: for J. Owen, 1796. (Todd 65a.2)
________. 3d ed. London: for J. Owen, 1796. [Todd identifies as first ed., third impression]. (Todd 65c)
________. 4th ed. London: for J. Owen, 1796. [Todd identifies as first ed., fourth impression]. (Todd 65d)
________. 5th ed. London: for J. Owen, 1796. [Todd identifies as first ed., fifth impression]. (Todd 65e)
________. 9th ed. London: for J. Owen, 1796. Bound with three other works. [Todd identifies as first ed., ninth impression]. (Todd 65i)
________. 10th ed. London: for J. Owen, 1796. Bound with 56b. [Todd identifies as first ed., tenth impression]. (Todd 65j)
________. 11th ed. London: for J. Owen, 1796. Bound with 53g. [Todd identifies as first ed., eleventh impression]. (Todd 65k)
________. 12th ed. London: for J. Owen, 1796. [Todd identifies as first ed., twelfth impression]. (Todd 65l)
________. 13th ed. London: for J. Owen, 1796. [Todd identifies as first ed., thirteenth impression]. (Todd 65m)
________. 2d ed. London: T. Williams, 1796. (Todd 65q)
Thoughts on the Prospect of a Regicide Peace... London: for J. Owen, 1796. [Todd identifies as first (pirated) ed.]. (Todd 66a.1)
________. London: for J. Owen, 1796. [Todd identifies as first (pirated) ed.]. (Todd 66a.2)
Two Letters...on the Proposals for Peace with the Regicide Directory of France... London: for F. and C. Irvington, 1796. [Todd identifies as first (authorized) ed.]. (Todd 66b)
________. London: for F. and C. Irvington, 1796. [Variant b f?]. (Todd 66b?)
________. London: for F. and C. Irvington, 1796. Second copy. [Variant b-f?]. (Todd 66b?)
________. London: for F. and C. Irvington, 1796. Third copy. Bound with 56a. [Variant b-f?] (Todd 66b?)
________. 4th ed. London: for F. and C. Irvington, 1796. Bound with 70a. [Todd identifies as first (authorized) ed., first impression, fourth issue]. (Todd 66e)
________. 5th ed. London: F. and C. Irvington, 1796. [Todd identifies as first (authorized) ed., first impression, fifth issue]. (Todd 66f)
________. 6th ed. London: F. and C. Irvington, 1796. Bound with 56b. [Todd identifies as first (authorized) ed., second impression, first issue]. (Todd 66g)
________. 12th ed. London: F. and C. Irvington, 1796. [Todd identifies as first (authorized) ed., fifth impression, first issue]. (Todd 66m)
________. 13th ed. London: F. and C. Irvington, 1796. [Todd identifies as first (authorized) ed., fifth impression, second issue]. (Todd 66n)
A Letter...on the Conduct of the Minority in Parliament... London: for the editor and sold by J. Owen, 1797. [Todd identifies as first (pirated) ed.]. (Todd 67a 1)
________. London: for the editor and sold by J. Owen, 1797. [Todd identifies as first (pirated) ed.]. (Todd 67a 2)
________. London: for the editor and sold by J. Owen, 1797. Bound with 56b. [Todd identifies as counterfeit ed.]. (Todd 67e)
________. London: for the editor and sold by J. Owen, 1797. [Todd identifies as counterfeit ed.]. (Todd 67g)
Three Memorials on French Affairs... London: for F. and C. Rivington, 1797. Bound with 56a. (Todd 69a)
________. 2d ed. London: for F. and C. Rivington, 1797. Bound with four other works. [Todd identifies as first ed., third impression]. (Todd 69c)
Two Letters on the Conduct of our Domestick Parties with Regard to French Politicks... London: for F. and C. Rivington, 1797. Bound with two other works. (Todd 70a)
________. 2d ed. London: for F. and C. Rivington, 1797. Bound with 69c. [Todd identifies as first ed., second impression]. (Todd 70b)
________. 2d ed. London: for F. and C. Rivington, 1797. Second copy. Bound with two other works. (Todd 70b)
________. 3d ed. London: for F. and C. Rivington, 1797. [Todd identifies as first ed., third impression]. (Todd 70c)
A Third Letter...on the Proposals for Peace with the Regicide Directory of France... London: for F. and C. Rivington, 1797. Bound with 70b. (Todd 71a)
________. 2d ed. London: for F. and C. Rivington, 1797. Bound with 70a. [Todd identifies as first ed., second issue]. (Todd 71b)
________. 3d ed. London: for F. and C. Rivington, 1797. [Todd identifies as first ed., third issue]. (Todd 71c)
________. 3d ed. London: for F. and C. Rivington, 1797. Second copy. Bound with 70b. (Todd 71c)
The Beauties of the late Right Hon. Edmund Burke... 2 vols. London: J. W. Myers, 1798. (Todd 73)
Thoughts and Details on Scarcity... London: for F. and C. Rivington, 1800. (Todd 74a)
Maxims and Opinions, Moral, Political, and Economical... 2 vols. London: C. Whittingham, 1804. (Todd 75a)
________. 2 vols. 2d ed. London: for Scatcherd and Letterman; and for Sharpe and Hailes, 1811. (Todd 75b)
The Speeches of the Right Honourable Edmund Burke... 4 vols. London: for Longman, Hurst, Rees, Orme, and Brown; and for J. Ridgway, 1816. (Todd 77)
The Epistolary Correspondence of the Right Hon. Edmund Burke and Dr. French Laurence... London: for C. and J. Rivington, 1827. (Todd 78)
The Works of the Right Honourable Edmund Burke. 3 vols. London: for J. Dodsley, 1792. (Todd 79a 1-3)
________. 7 vols. London: for J. Dodsley, 1792-1821. (Todd 79a 1-7)
________. A New Edition. 16 vols. London: for F. and C. Rivington, 1801-1827. [Todd identifies as second (first octavo) ed.]. (Todd 79b 1-8, d 9-16)
________. A New Edition. 8 vols. London: for F. and C. Rivington, 1803. [Todd identifies as third ed.]. (Todd 79c 1-8)
________. A New Edition. 16 vols. London: for F. and C. Rivington, 1826-1827. (Todd 79g 1-10, d 11-16)