1947 Detroit Tigers / BAS875-1-6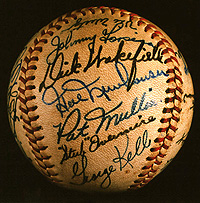 Right side panel
Ball type: Reach Official American League, single-stitched, William Harridge signature.
Signatures: Twenty-six, in fountain pen. Front panel: Doc Cramer. Back panel (sweet spot): Steve O'Neill, Art Houtteman. Upper panel: Skeeter Webb, Jimmy Outlaw, Roy Cullenbine, Eddie Lake, John McHale. Right side panel: Vic Wertz, Johnny Gorsica, Dick Wakefield, Hal Newhouser, Pat Mullin, Stubby Overmire, George Kell. Lower panel: Bob Swift, Bill Sweeney, Fred Hutchinson, Eddie Mayo, Hal Wagner. Left side panel: Al Benton, Frank Shellenback, Dizzy Trout, Ed Mierkowicz, Hoot Evers, Virgil Trucks.
Condition: All signatures fully discernable; no apparent fading. Ball surface shows significant and uniform natural discoloration; labelling extremely faint.
Notes: The Detroit Tigers of the late 1940s were one of major league baseball's soundest franchises. In an era marked by unprecedented growth at the gate - organized baseball set new aggregate attendance marks in 1946, 1947, and 1948 - the Tigers stood out, with the American League's highest average annual attendance over the period 1945-50. According to figures made public when the team was sold in 1956, the '47 Tigers showed profits of $197,000 on $1.93 million in gross revenues (eighty per cent of which came from gate receipts); in several other seasons returns approached twenty-five per cent of revenues. Owner Walter O. Briggs, a wealthy auto body manufacturer, was not reluctant to spend: the 1947 player payroll of $477,000 was among the league's highest, and Briggs Stadium was an extremely well-maintained and attractive facility. The team was quite successful on the field as well, with a wartime championship in 1945 and second-place finishes in 1946, 1947, and 1950. Yet for all this, the post-war Tigers never quite realized their potential. Briggs spent lavishly on signing bonuses for "star" prospects like Dick Wakefield ($52,000) but not on developing the farm system, which by the early 1950s was dry. Nor did he benefit by the most significant event of 1947, the integration of the major leagues; no black athlete would play for Detroit until 1958. The result, following Briggs' death in 1952, was a decade of mediocrity and reduced profitability, while the Yankees, Indians, and White Sox reigned as the league's successful franchises.
Pre-season expectations for the 1947 Tigers were high, and the team did in fact get off to an excellent start. But a terrible June combined with a 19-game Yankee winning streak in July knocked the Tigers from contention; they ended the season at 85-69, twelve games behind New York in second place. The pitching was a disappointment. Hal Newhouser and Dizzy Trout had been the best starting tandem in baseball over the previous three years; each saw his ERA rise by about a run. Newhouser's frustration became evident on 28 August when he was fined $250 for "indifferent performance plus refusal to leave the pitching mound." The club's best position player was young third baseman George Kell, who hit .320 and was voted to the BBWAA's major league all-star team. First baseman Roy Cullenbine hit 24 homers and walked 137 times; shortstop Eddie Lake managed 120 walks despite hitting .211 and slugging .322. (the '47 Tigers are among the top ten teams all-time in bases on balls). But perhaps the most momentous event of the season was the first local telecast of a Tigers game, carried by WWJ-TV (and seen mostly in bars).
The 1947 Tigers used only thirty different players, an exceptionally low total for the era. Twenty-three of them appear on this ball, including all players of significance except Birdie Tebbets (traded to Boston for Hal Wagner in May) and reliever Hal White. Also present are coaches Bill Sweeney and Frank Shellenback and manager Steve O'Neill. Two Hall of Famers, Newhouser and Kell, appear. The ball necessarily dates from after the Tebbets-Wagner trade, made on 20 May.
Provenance: Purchase, 1996.