1958 Washington Senators / BAS875-1-8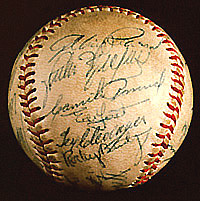 Upper panel
Ball type: Unidentified.
Signatures: Twenty-eight, in ballpoint (one repeated). Back panel (sweet spot): Bob Wiesler, Ralph Lumenti, Cookie Lavagetto. Front panel (label): Pedro Ramos, Bobby Malkmus. Upper panel: Albie Pearson, Julio Becquer, Camilo Pascual, Eddie Yost, Tex Clevenger, Rocky Bridges. Right side panel: Bobby Malkmus, Chuck Stobbs, Whitey Herzog, Ossie Alvarez, Ellis Clary, Boom-Boom Beck. Lower panel: Harmon Killebrew, Norm Zauchin, Bud Byerly, Roy Sievers, Dick Hyde. Left side panel: Hal Griggs, Russ Kemmerer, Ken Aspromonte, Steve Korcheck, Clint Courtney, Jim Lemon.
Condition: All signatures fully discernable, with minimal fading. Cover moderately soiled; minimal natural discoloration.
Notes: Throughout the decade of the 1950s the American League standings were extraordinarily unvarying. Every season, it seemed, the Yankees would win the pennant, Cleveland and Chicago would finish second and third . . . and the Washington Senators would end up in the second division. In the decade's first half that often meant fifth place; from 1955-59 it meant (with a single exception) eighth and last. The Senators drew from a small population base, made smaller by the arrival of the Orioles in Baltimore in 1954. Longtime club president Clark Griffith was not wealthy by ownership standards, and entirely dependent on baseball revenue for his livlihood. When Calvin Griffith assumed control from his foster father in 1955, he immediately began thinking of relocating, as changing demographics made alternate markets attractive. Meanwhile, the Senators continued to lose. So familiar were the team's travails that they became the premise for the most popular baseball fictionalization of the era: the hit musical comedy Damn Yankees, which ran for 1019 performances on Broadway before being made into a feature film in 1958. The narrative (inspired by the Faust legend) turns on the transformation of a despairing middle-aged Senators fan into young superstar Joe Hardy, who joins the team and leads it in a predictable challenge to the despised Yankees.
The actual Senators of 1958 (who finished twelve games behind seventh-place Kansas City) boasted no Joe Hardys on their roster, nor could they sing and dance like their Hollywood counterparts. But they did have some notable players. Eddie Yost stands seventh all-time in drawing bases on balls, and he earned them, being by far the weakest hitter among the career leaders in this category. Roy Sievers and Jim Lemon were good power hitters; Sievers was the best player on the team in 1958, with 39 home runs. Twenty-two year old Harmon Killebrew hit no homers at all that season, but he would go on to hit 573 -- mostly in Minnesota, where the Senators finally moved in 1961. Pascual and Ramos were solid enough pitchers, though the workhorse Ramos had the misfortune to lead the American League in losses every year from 1958 to 1961. The two also formed half of the Senators' contingent of Cubans: Clark Griffith was an innovator in scouting the Caribbean, if only because of the economy with which Cuban and other Latin American players could be acquired.
The signatures on this ball record the Senators' roster as it stood in early May (when the team was in second place). Ken Aspromonte arrived from Boston in a trade on 1 May, while Whitey Herzog was sold to Kansas City on 14 May; the ball necessarily dates from the two weeks separating these transactions. The players with the most games at each position and the five pitchers with the most innings pitched are all present. Also present are manager Cookie Lavagetto and coaches Ellis Clary and Walter "Boom-Boom" Beck.
Provenance: Gift of Emmit Jennings.