Sandy Koufax / BAS875-4-5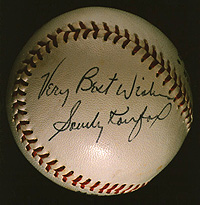 Right side panel
Ball type: Spalding Official League, single stitched.
Signatures: One, in ballpoint. Right side panel: 5Sandy Koufax.
Inscriptions: Right side panel: "Very Best Wishes".
Condition: Signature and inscription as new. Ball shows slight natural discoloration.
Notes: In 1954 the Brooklyn Dodgers offered a $14,000 signing bonus to a young, hard-throwing left-handed pitcher then enrolled at the University of Cincinnati, Sanford ("Sandy") Koufax (1935- ). Koufax reported to the Dodgers in 1955, and over the following eight seasons overcame considerable control problems to become one of the National League's best power pitchers, going an aggregate 68-60 as the team moved from Brooklyn's Ebbets Field to the Los Angeles Coliseum (1958) to its newly built West Coast home, Dodger Stadium (1962). In 1963, everything came together for Koufax. Dodger Stadium was proving an extraordinarily difficult park in which to hit; this, combined with new legislation increasing the size of the strike zone and, most importantly, the maturation of his considerable abilities, led to Koufax's emergence as baseball's best pitcher. Over the next four seasons he performed at a level matched by few, if any, pitchers in the game's history. Every year his earned run average was the league's best; he won ninety-seven games while losing twenty-seven, pitched four no-hitters, and in 1965 established a new single-season strikeout record with 382. He led the Dodgers to three National League pennants and two world championships, all the while pitching in pain due to a chronic arthritic condition in his left elbow. Following the 1966 season, acting on the medical advice that continued pitching would permanently damage his arm, Koufax retired at the age of thirty-one. In 1972 he became the youngest player ever elected to the Hall of Fame.
Brooklyn's move to the West Coast shortly after Koufax's arrival was not without its share of irony; for decades the New York teams had been seeking a Jewish star to appeal to the area's large Jewish population. By the post-war era, however, changing social conditions had diminished the significance of Jewish-American athletes as symbols of cultural assimilation; Koufax's religion and ethnicity were far less commented upon, for example, than Hank Greenberg's, the great Detroit Tiger slugger of the 1930s and '40s. Koufax's habitual refusal to pitch on the holidays of Yom Kippur and Rosh Hashonah did provoke comment during the 1965 World Series, the first game of which coincided with Yom Kippur. In any event, Koufax ended up pitching three games in eight days, twice shutting out the Minnesota Twins to lead Los Angeles to the world championship.
Provenance: Gift of Mike Ravine.