Cy Young / BAS875-5-10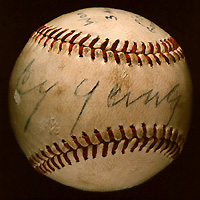 Back panel (sweet spot)
Ball type: Spalding Official Little League, single stitched.
Signatures: One, in ballpoint. Back panel (sweet spot): Cy Young.
Inscriptions: "Won 511 Games / 3 No-hit Games / Pitched Perfect / Game May 5, 1904" on left side panel.
Condition: Signature fully discernable, with moderate fading. Ball reveals some soiling, little natural discoloration.
Notes: It is arguable that no pitcher in baseball history was so good for so long as Denton True ("Cy") Young (1867-1955). In a career spanning twenty-two major league seasons (1890-1911), Young established a number of career records which, under the dramatically different pitching conditions prevailing today, are almost certainly unbreakable: these include the marks for wins (511), complete games (750), and innings (7356 - over 1400 more than his closest rival). Season after season Young was among baseball's most effective pitchers, from his years with the National League's Cleveland Spiders in the 1890s through an eight-year stay with the Boston club of the newly formed American League after the turn of the century. At 6-2 and 210 lbs Young was big for his day, and threw hard. But his most distinctive attribute was his control: he led his league in fewest walks per game a remarkable fourteen times, whereas he never led in strikeouts per game, and was seldom among the league's top five. He remained a capable pitcher past the age of forty, until 1910 when the first arm problems of his career diminished his effectiveness. Young was an unassuming man, of whom it was said that he would "retain about him that undefinable air of the farm as long as he lives." After his career ended he returned to his farm near Peoli, Ohio and lived quietly, frequently attending old-timer reunions and involving himself with Little League baseball. He was elected to the Hall of Fame in 1937, among the second group of players so honored. Shortly after his death the major leagues established the Cy Young Memorial Award, to be given annually to the game's (later each league's) best pitcher.
The ball on which this signature appears probably postdates World War II, since only then did Little League baseball become a national phenomenon. It is likely, then, that the signature dates from the last ten years of Young's life. The ball was obtained from Young by collector Mike Ravine; both men were longtime residents of Tuscarawas County, Ohio.
Provenance: Gift of Mike Ravine.
< Previous Ball | Home | Next ball >