Theology and Church History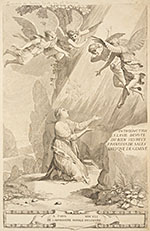 Special Collections' holdings in theology and church history are extensive and significantly expanding on an annual basis. The strengths of the collection in this area generally correspond to the graduate research emphases of Notre Dame's Theology Department: Biblical studies/early church; church history; systematic and moral theology, and liturgical studies. There continues to be a thematic collecting emphasis on various aspects of the Catholic theological tradition, especially those relating to the doctrinal discussions of the Reformation era that of course corresponds closely to the early printed books period, as well as the Jewish context of Christian origins.
In addition to the systematic enrichment of the collection through the acquisition of individual early printed books, our Inquisition Collection includes important original and secondary sources on that aspect of church history, while the Library of José Durand features a number of liturgical works published in the aftermath of the Council of Trent (1545-63). The Olmütz Monastic Libraries collection consists of 460 volumes, primarily eighteenth century imprints covering a range of ecclesiastical subjects, and we also hold a number of early printed theological works and bound manuscripts from The Dominican Convent of St. Raymond of Peñafort in Spain.
One of the highlights of our special collections in Catholic theology is the Vatican II Collection, a truly unique set of primary sources for the study of the Second Vatican Council, which met from 1962-65. The collection includes more than 1400 documents pertaining both to the documents of the Council itself and to the work of the post-conciliar commissions responsible for implementing liturgical reforms.
The Lohmann Collection is an extraordinary compilation of printed books documenting the relationship between Catholicism and the Enlightenment that was acquired by Notre Dame in 2009. It consists of approximately 3300 titles and nearly 7000 volumes. The works cover an impressive range of genres, including Catholic apologetics, theological dissertations and treatises, collections of sermons, and the acts of religious orders; most of these titles are 18th-century imprints and taken together form an impressive level of documentation for European Catholicism's intellectual response to the developing Enlightenment ethos of that period. Although the processing of this collection is not complete, available volumes may be accessed through conducting a keyword search—"Lohmann Collection"—in our library catalog.
Over the last several decades, we have also acquired a number of important manuscript facsimile editions, including Bibliorum sacrorum Graecorum Codex Vaticanus B and the Codex Sinaiticus.
The library of the university's Medieval Institute also has important non-circulating holdings in theology and church history; for further information, please see Medieval Institute Library's website.