Russian and East European Studies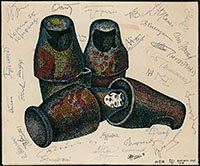 Special Collections' manuscript and print holdings are extensive and significant. The materials range in date from the early nineteenth century to the present. The bulk of the collection comprises Russian manuscripts and rare books pertaining to political and cultural life of the Soviet Union and the Russian Diaspora in Europe and the United States. The Polish collection primarily consists of avant-guard and artists' books published in the 20th century.
Especially notable are the Herbert P.J. Marshall and the Huntly Carter papers, acquired by the Hesburgh Libraries in the early 1990s. They formed the cornerstone of the Russian and East European Studies collections at Notre Dame. These collections comprise correspondence, diaries, photographs, printed ephemera, posters, prints, and books relating to the history of early Soviet theater, cinema, literature, and culture.
The Polievktov-Nikoladze family papers is another substantial collection which derives from three generations of a prominent and historically significant Russian-Georgian family. The materials include personal and professional correspondence, diaries, photographs, and other manuscript formats, including the transcripts of interviews with key participants in the February Revolution conducted during May-December 1917 by a historical commission organized by A.E. Presniakov and M.A. Polievktov.
Papers and manuscripts focusing on human rights and the unofficial non-conformist culture of Soviet Russia (also known as Russia's second culture) constitute a particular strength within the Russian and East European Studies holdings. The materials include letters from the Gulag, literary and political works of Samizdat, manuscripts, official documents, diaries, correspondence, and photographs. A number of personal collections by important Russian political and cultural figures are represented among the Department's holdings. These include the papers of the Human Rights activist and the first executor of the Solzhenitsyn Fund Alexander Ginzburg (1936-2002), the writer Eugenia Ginzburg (1904-1977) and the poets Inna Lisnianskaia (1928-2014) and Semion Lipkin (1911-2003), the concept artist and writer Vagrich Bakhchanyan (1938-2009), the Human Rights activist and literary scholar Elizabeth Markshtein (1929-2013).
Archival Collections
Related Online Resources